'Star Trek Into Darkness' Teaser Kicks Off Viral Campaign: 'Are You The 1701?'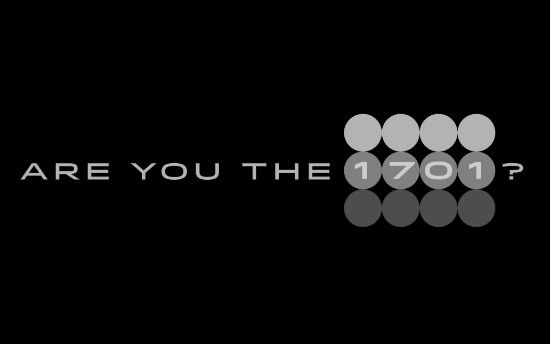 No one should be surprised that when a new Bad Robot trailer is released, it holds the key to the beginning of a viral campaign. Some eagle-eyed Star Trek fans went through the brand new Star Trek Into Darkness teaser trailer frame-by-frame, and noticed that a URL briefly flashes on one of the Enterprise monitors at the trailer's 1:07 mark. It asks, Are You The 1701?
Of course, the Enterprise's registry number is NCC-1701, suggesting this has might have something to do with joining Captain Kirk's ship. Currently, the URL points to a website, as well as a Facebook page and Twitter account, none of which have started up yet. Check out the screengrab below.
Thanks to Trek Movie via First Showing for the heads up.  Here's the screencap from the trailer. Blow it up to see the URL on the far right.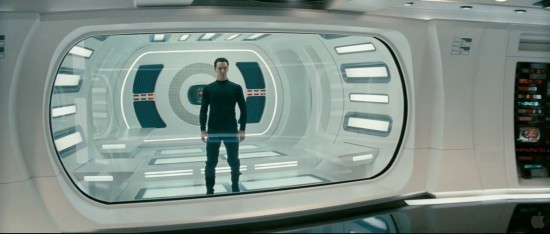 We'll keep an eye out for when this campaign kicks into high gear but, for now, what do you think this viral campaign is going to hold? Do you think the placement of the URL in this shot is important, or is it simply part of the 1:07 timestamp in the trailer?
In Summer 2013, pioneering director J.J. Abrams will deliver an explosive action thriller that takes Star Trek Into Darkness. When the crew of the Enterprise is called back home, they find an unstoppable force of terror from within their own organization has detonated the fleet and everything it stands for, leaving our world in a state of crisis. With a personal score to settle, Captain Kirk leads a manhunt to a war-zone world to capture a one man weapon of mass destruction. As our heroes are propelled into an epic chess game of life and death, love will be challenged, friendships will be torn apart, and sacrifices must be made for the only family Kirk has left: his crew