Quentin Tarantino Has An Extended Cut Of 'Django Unchained', Harvey Weinstein Suggested Splitting Film Into Two Parts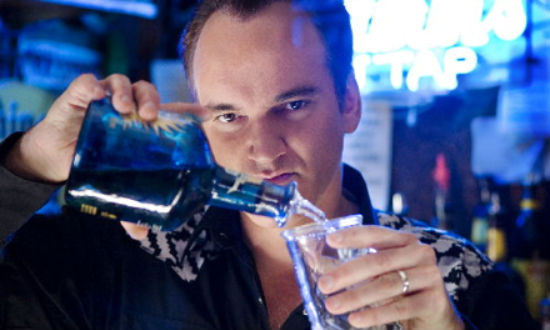 At 165 minutes, Quentin Tarantino's Django Unchained is hardly what you'd call brief. But it's still shorter than the version we could've gotten, in some alternate universe.
During a press day in New York City, Tarantino revealed that Harvey Weinstein had once suggested splitting Django Unchained into two films, a la Kill Bill. And while Tarantino ultimately decided against it, he hasn't entirely given up hope on getting some of that extra footage out there, possibly in the form of an extended cut. Read his comments after the jump.
This had to be Django's journey from beginning to end. It had to be an odyssey. As Django and Schultz traverse America to get to Broomhilda. At one point Harvey was talking about splitting it up [into two films]. And I said, 'No, it won't work here.' You have to follow Django's journey to the end. There are so many emotions – there's the action adventure, the gallows humor comedy that runs through it, there's the pain of the story, there's the catharsis, there's the suspense, and hopefully at the end there's cheering, if the audience isn't cheering then I haven't done my job. That I got that cheer at the end was the biggest issue. As far of the pain of the story I could have gone further. I wanted to show more, to show how bad it was. But I also don't want to traumatize the audience to the point that they aren't where I need them to be in the last reel.
That said, Tarantino hasn't ruled out the possibility of putting out a second, longer cut of Django Unchained, although he's "not exactly sure" when:
I'm going to wait until the film goes around the world, does what it does. And then I'm going to make a decision. I make these scripts that are almost novels. If I had to do this whole thing over again I would have published this as a novel and done this after the fact. Maybe next time. I could do what Kevin Costner did with the expanded edition of 'Dances with Wolves,' and I could very well do that. Because if I put some of that in I have to change the story. But I want this version to be the story for a while.
We can't help but wonder what exactly he means by "changing the story." Any addition to the movie would alter it, of course, but it sounds like Tarantino could be talking about something more than just filling out some details.
Then there's the question of whether a bigger version is even a good idea. While Django Unchained has been getting strong reviews in general, more than a few critics have complained that the movie already runs too long and lacks focus. Tacking on even more minutes could be the last thing this film needs.
[Source: The Playlist]