Concept Art From Unproduced Fourth Live-Action 'Teenage Mutant Ninja Turtles' Movie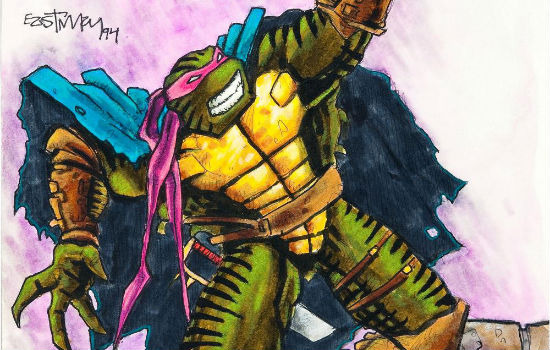 Everyone knows the four Teenage Mutant Ninja Turtles were named after famous artists. But did you know the fifth one was named after a comic book legend? You're probably thinking, "I didn't even know there was a fifth Turtle" and that's because there wasn't. He was merely conceptualized by Turtles co-creator Kevin Eastman in the mid 1990s for a proposed fourth live-action Turtles movie. The film was supposed to be less-kid friendly and introduce a fifth Turtle named "Kirby." We know this because Eastman has put 25 of his original concept drawings from the pitch up for auction. Check them out below.
Over at Heritage Auctions (via Comic Book Movie) they describe the images as follows:
Kevin Eastman – Character Designs for Unfilmed Fourth Teenage Mutant Ninja Turtles Movie Original Art Lot of 25 (1995-97).Many of these 14 pieces also have art on the backs, for a total of 25 pages of art! Many are devoted to Kirby, the "fifth turtle," but also featured are Fang, Shredder, Spyder, Nano Spyder, Super Shredder, Kasey, Talbot, Lawson, Bugman, and Evil April. Each piece measures 8.5" x 12". All are rendered in pen, with one color piece in watercolor and the others in marker.
Here are about half of the images, including several of Kirby. Head to those sites to see more.
Among the images you'd get if you won this auction are script cover pages referring to the movie as TMNT 4 and TMNT 4: The Foot Walks Again. It looks like an original script by Christian Ford and Roger Soffer was rewritten by Craig Shapiro and John Travis, and then the latter pair just wrote a whole new script. That would lead one to assume they couldn't quite get anyone to fund a fourth movie.
But don't worry, a fourth movie is coming out. It's just not this one. What do you think about Eastman's drawings?