Michael Showalter Gives Some 'Wet Hot American Summer' Prequel Details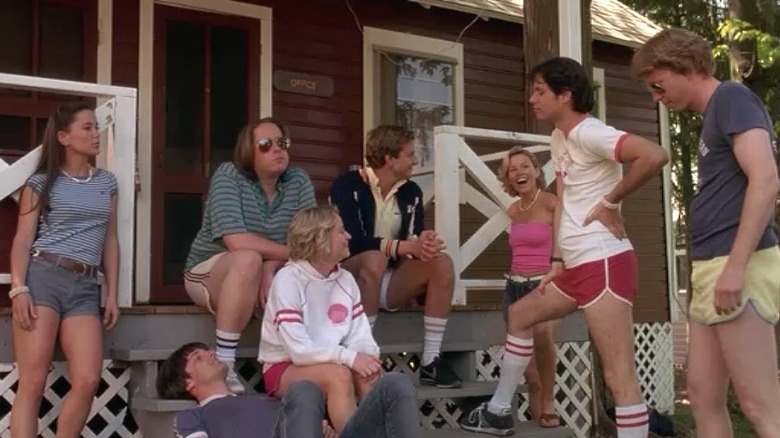 Even if a movie doesn't hit a home run at the box office, as long as it finds an audience somewhere, we're bound to get a sequel. The examples are too numerous to mention, but one that has comedy fans excited is a potential follow-up to David Wain's 2001 film Wet Hot American Summer. The comedy, which features a who's who of stars (Janeane Garofalo, David Hyde Pierce, Michael Ian Black, Paul Rudd, Christopher Meloni, Molly Shannon, Ken Marino, Joe Lo Truglio, Amy Poehler, Elizabeth Banks, Bradley Cooper) didn't even gross $300,000 at the box office upon release. But as good movies often do, it picked up a cult following on home video and has since become a pop culture landmark, spawning everything from art shows to cosplay.
Once the film gained some cultural success, people began asking its stars and writers about sequels, prequels, anything that would bring back the first film's characters. Now, co-writer and co-star Michael Showalter once again commented on this project and said that a prequel is still in the works. It's set six months to a year before the first movie, but all the actors would be ten years older...which makes about as much sense as anything else in the original. See him talk about it after the jump.
The Showalter info came from a recent appearance on Geeking Out with Kerri Doherty. It starts at about 2:22.
In the past, Wain has seemed pretty pessimistic about the prospect of making another trip to Wet Hot American Summer but Showalter seems pretty certain of it here. Even if they could get half of the cast back, one would think some producer could throw them a few hundred thousand bucks to make the movie based on name alone. All the stars are way too big now so they probably wouldn't take any paycheck for it and once it was a hit, everyone would get paid. Hell – if I had the money I'd do it myself. What are you waiting for independent producers?
Do you think we'll see a prequel to Wet Hot American Summer? Do you like the idea of the prequel filled with awkwardly older but supposedly younger versions of the characters?