Star Wars Bits: Death Star Petition, Samuel L. Jackson, Peter Jackson, George Lucas, Female Fighter Pilots, Rancho Obi-Wan, And More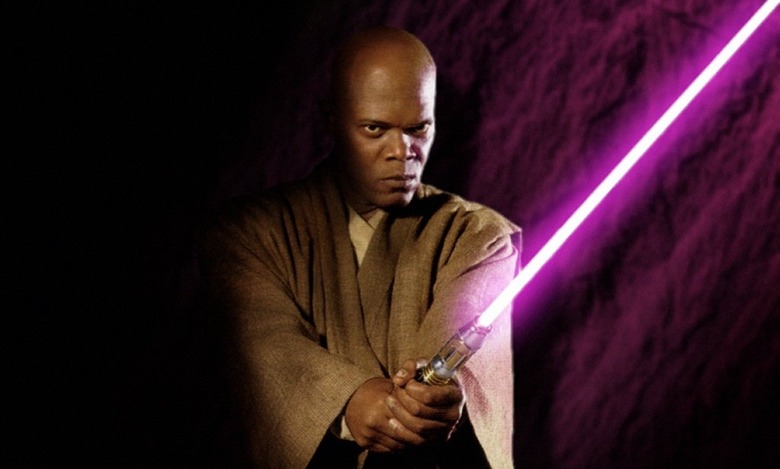 Is the government building a Death Star? Probably not, but according to one petition at least 25,000 Americans think they should. Also after the jump:
Samuel L. Jackson really wants to come back as Mace Windu
Is Peter Jackson interested in directing a Star Wars movie?
George Lucas is excited to see a Star Wars movie he didn't make
Read about the female fighter pilots who were cut from Return of the Jedi
Check out cool retro-styled prints for Episodes III and VI
Watch a video tour of the Rancho Obi-Wan memorabilia museum
I'm not surprised but totally geeked by the idea of there being more Star Wars. It's like, okay, Obi-Wan was dead when episode four started, so maybe everyone thinks I'm dead and we'll find out what happened to Mace Windu. I can come back as one-armed or a one-handed Jedi that's still around that didn't actually die. I could do that or be a ghost hologram. I don't care, I just want to stay associated with the franchise.
For Jackson, the appeal of the Star Wars movies lies in the unique world Geroge Lucas has created. "I just always loved it," he said. "I always loved the idea of it, that there's this whole civilization out there somewhere else that's just as much fun and different and diverse and wild as we are." [E! via Coming Soon]
Peter Jackson's involvement with the Hobbit franchise puts him out of the running for the Star Wars VII directing gig, but the filmmaker isn't totally ruling out future installments. Access Hollywood caught up with Jackson to gauge his interest in the sci-fi franchise.
"I dunno. I've never really thought about it. I'm busy for the next couple of years (laughs). So I'm off the cards for the next 'Star Wars' film unfortunately." He continued, "But, I've got huge admiration for what George [Lucas] created. He did what [J.R.R.] Tolkien did, really. He created a mythology. I don't know. Someone would have to ask me and I'd have to have a very serious think about it." Would you be interested in a Jackson-directed Star Wars? [ComicBook.com]
In their latest issue, Star Wars Insider gets the inside scoop on the franchise's future from George Lucas and Kathleen Kennedy. An excerpt has just hit the web, in which Lucas talks about (among other things)why he turned over the series to Kennedy. "I always said I wasn't going to do any more... and that's true, because I'm not going to do them," he explained. "But that doesn't mean I'm unwilling to turn it over to Kathleen to do more."
Lucas added that it wasn't that he didn't want more Star Wars — it was that he didn't want to go through "the drudgery of actually making it."
The one thing I missed in life is that I never got to see "Star Wars." I never got that moment where I walked into a theater and was blown away, because I already knew it was nothing but heartache and problems. Which is always the way it is for a filmmaker. They never see the movie; they only see the process of what they had to go through. Maybe this will give me the chance to actually walk in and be surprised. I'm going from being the creator to a fan. I get to be a fan, now. I look forward to it. It's a lot more fun than actually having to go out in the mud and the snow.
Head to MTV for more of the excerpt, or read the full interview in the print version of the magazine.
Consiering how diverse the overall Star Wars universe is, it's curious that the films (particularly the original trilogy) are so lacking in women. Leia's badass moves aside, nearly all of the action is centered around male characters.
However, it turns out that wasn't always the intention. In fact, Return of the Jedi originally included three female fighter pilots who were cut from the final product. The reason has never been confirmed, but one popular theory is that filmmakers feared audiences would be put off by watching female pilots get killed off. BuzzFeed has a look at the three ladies who didn't make it, along with pictures of the actresses in character.
Most Americans would agree that job creation, space exploration, and national defense are all worthy causes for the government to promote. What if a single project could boost all three at once? One citizen, John D. of Colorado, has hit upon the idea of a government-funded Death Star.
Those who sign here petition the United States government to secure funding and resources, and begin construction on a Death Star by 2016.
By focusing our defense resources into a space-superiority platform and weapon system such as a Death Star, the government can spur job creation in the fields of construction, engineering, space exploration, and more, and strengthen our national defense.
The proposal isn't without its drawbacks. For one thing, estimates put the price tag in the $852 trillion range, which is well past the entire world's GDP. But that's a small price to pay for the ability to completely obliterate entire planets, don't you think? Click over to WhiteHouse.gov to see the petition, which has already surpassed the required 25,000 signatures it needs to get official White House review. [via Nerd Approved]
Still need a Christmas present for that special geek in your life? Artist James Silvani has created two cool Star Wars prints inspired by Revenge of the Sith and Return of the Jedi. The fact that they come in very holiday-appropriate shades of red and green is probably just a coincidence, but it works.
The limited-edition silkscreen prints measure 16 x 24 and go for $50 each. Head to DarkInkArt to purchase.
We've mentioned Steve Sansweet's Rancho Obi-Wan memorabilia museum in this space before. A trip to Northern California to visit the space is easier said than done for most folks, but now Sansweet has posted a YouTube preview tour of his collection so you can check it out from the comfort of your own home. Watch it below.
[via Cnet]