New Images From 'Monsters University' Plus Comments From Pete Docter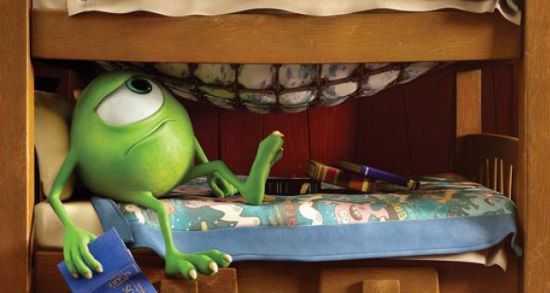 College can be a dizzying mix of highs and lows. There's that incredible feeling when you first arrive and think the world is your oyster. There's also the terrible realization that not everyone is nice and you have to choose your friends wisely. Those are the two moments captured in brand new images from Disney/Pixar's Monsters University, scheduled for release June 21. It's a prequel to Monsters Inc., which will be re-released in 3D December 19.
After the jump, check out the highs and lows of college life for Mike Wazowski (Billy Crystal) as he first arrives at college and first meets his rival turned best friend Sully (John Goodman) as well as some thoughts from the director of the original film, Pete Docter.
Thanks to Entertainment Weekly and Stitch Kingdom for these images.
Monsters University director Dan Scanlon described the photo of Sulley holding Mike as follows:
This is roughly around the time Mike and Sulley meet. They're at a fraternity party, and this is Mike and Sulley getting off on the wrong foot a little bit....[The red creature in Sulley's hands] is the monster equivalent of a farm animal. It is not a student. This is part of a college prank.
The second photo shows Mike on his first day at college, all wide-eyed and excited.
In the film, Mike and Sulley are at college both trying to become scarers. They quickly become rivals, which gets them kicked out of the program and the only way back in is to join a frat and compete in The Scare Games. You can read all about the first time they join their new frat by clicking on our exclusive description here.
Also of note to Monsters Inc. fans, the director of the original film Pete Docter (who also did Up) did a Reddit AMA today (read it all here) and was asked about Monsters University:
Yeah, MU is turning really well — it looks fantastic and is really funny. The kid who did the voice of Boo was Mary Gibbs — daughter of Rob Gibbs who was a story artist on the film (he's since directed a bunch of Cars shorts too — very talented guy). Mary was too young to understand what we wanted her to do, so we had to trick her into stuff by playing games, jumping & running around, talking to puppets.... Later I used the same tricks working with Ed Asner. (Ha!)