'G.I. Joe: Retaliation' Trailer: The Joes And Channing Tatum Are Back, For Real This Time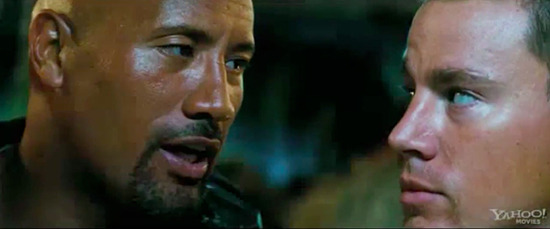 This past weekend, Paramount brought footage from the delayed G.I. Joe: Retaliation to Harry Knowles' annual 24-hour movie marathon in Austin, TX. I wasn't in attendance, but the consensus on the Joe footage, which featured that mountainside ninja battle, was easy to read: everyone I talked to said the sequence had some of the best post-converted 3D they'd seen. Many films and quite a few clips of upcoming releases were screened at BNAT14, but the Retaliation footage created more positive talk than some other new stuff did. Doesn't mean the movie is a winner, necessarily, but it sounds like the 3D conversion was a success.
You won't get to see that 3D online, but this new trailer for the March release does show some new footage. It also includes slightly more of Channing Tatum than any previous trailer for the film has — whether that is due to the reported beefing-up of his role in the movie still isn't something we know at this point. Check out the trailer below.
G.I. Joe: Retaliation opens on March 29, 2013.
In this sequel, the G.I. Joes are not only fighting their mortal enemy Cobra; they are forced to contend with threats from within the government that jeopardize their very existence.