Posters: 'Jack The Giant Slayer', 'Hansel & Gretel: Witch Hunters', 'Side Effects'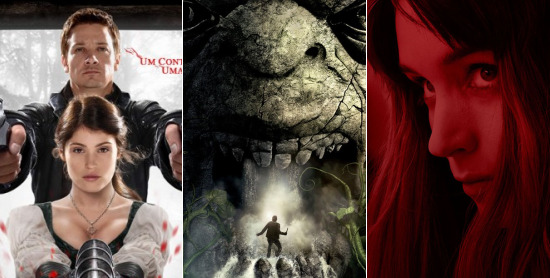 2012 saw a couple of high-profile fairy tale releases, but the trend is really just getting started. 2013 has a couple such titles due out in just the first three months, including Tommy Wirkola's Hansel & Gretel: Witch Hunters in January and Bryan Singer's Jack the Giant Slayer in March.
Of course, that's not to say there aren't promising non-fantasy movies due out as well. One we're especially looking forward to is Side Effects, Steven Soderbergh's possibly final theatrical release. Check out new posters for all three films after the jump.
[via Yahoo, The Playlist, and IMPAwards]
Kicking off the fairy tale onslaught is Hansel & Gretel: Witch Hunters, which opens January 25. Jeremy Renner and Gemma Arterton star as... well, you can probably figure it out from the title. Famke Janssen plays the villain. The Brazilian poster shown here is similar in style to the American ones that have been making the rounds, but I think it looks ever so slightly more badass.
A few weeks later, on March 1, we get Jack the Giant Slayer with Nicholas Hoult in the title role. Here's the synopsis:
Jack the Giant Slayer tells the story of an ancient war that is reignited when a young farmhand unwittingly opens a gateway between our world and a fearsome race of giants. Unleashed on the Earth for the first time in centuries, the giants strive to reclaim the land they once lost, forcing the young man, Jack (Nicholas Hoult) into the battle of his life to stop them. Fighting for a kingdom, its people, and the love of a brave princess, he comes face to face with the unstoppable warriors he thought only existed in legend–and gets the chance to become a legend himself.
The trailer received some criticism (including from Russ) for looking off-puttingly fake. But the poster, I love. It's simple, but does a bang-up job capturing the film's epic fantasy feel.
And in the non-storybook category, we have Soderbergh's Side Effects slated for February 8. The film is notable for being Soderbergh's last pre-hiatus effort to hit theaters. But it'd look worth checking out even if that weren't the case. Rooney Mara stars as Emily Taylor, a young woman whose dependence on anti-depressants spins out of control. Jude Law plays her doctor Jonathan Banks (unrelated, we assume, to the other Jonathan Banks), whose interest in her doesn't seem totally healthy.