'Top Gun' Gets IMAX 3D Re-Release In February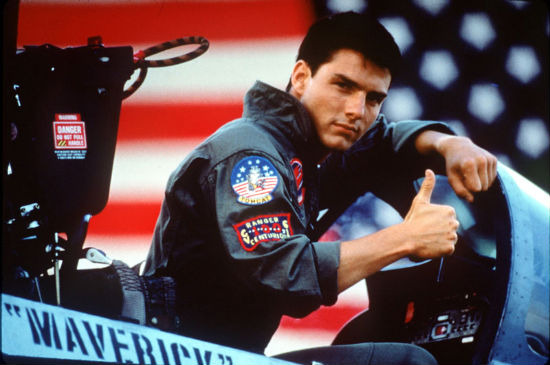 The danger zone will be located right in your local IMAX theater. Looks like Paramount has come up with a plan for the 3D version of  Tony Scott's classic 1986 action film, Top Gun after reportedly being uncertain about how and when to release it. Top Gun is getting an IMAX 3D re-release on February 8, 2013, in advance of its 2D and 3D Blu-ray debut on February 19. Scott oversaw the 3D conversion before his passing earlier this year. Read more about the release after the jump.
Here's the press release for the Top Gun IMAX 3D re-release, which will run for a week in select IMAX theaters. That means it'll likely be only in digital IMAX locations, so the real selling point here is the 3D more than the IMAX. They began plans for that back in 2011.
"TOP GUN," Paramount Pictures' 1986 classic from director Tony Scott, producers Don Simpson and Jerry Bruckheimer, and starring Tom Cruise, takes off on a new adventure with an exclusive six-day 3D engagement in select IMAX theatres beginning February 8, 2013.  The film has been re-mastered for the IMAX 3D release and subsequent debut on Blu-ray.
TOP GUN was re-mastered for the big screen from high-resolution original negative scans and painstakingly converted to 3D by Legend3D under the supervision of the film's director, Tony Scott.  Rendered in 3D, the film's complex, long shots reveal extraordinary depth and clarity, allowing viewers to explore every detail of the action.  From the spectacular aerial dogfights to the intense close-ups in the cockpits, each frame enables the audience to feel a part of the story.
The story of an elite group of pilots competing to be the best in their class and earn the title of "TOP GUN" captured the imagination of a generation and earned a worldwide box office of over $350 million upon its release.  The film stars Tom Cruise as Maverick and Kelly McGillis as his civilian instructor. The film also stars Val Kilmer, Anthony Edwards and Meg Ryan.
The "TOP GUN" Blu-ray 3D disc presents the film with pristine high definition picture and sparkling sound in spectacular 3D for the ultimate home viewing experience.  The Blu-ray 2D includes the re-mastered film in high definition, along with a six-part documentary on the making of the movie, a behind-the-scenes featurette, interviews with Tom Cruise, commentary by producer Jerry Bruckheimer, director Tony Scott, co-screenwriter Jack Epps, Jr. and more.  The two-disc set available for purchase also includes a digital copy of the film and will be enabled with UltraViolet technology.
You can read some of my personal thoughts about the film here, when it was previously re-released.