Columbia Hires 'Seven Years In Tibet' Scribe Becky Johnston To Write 'Salt 2'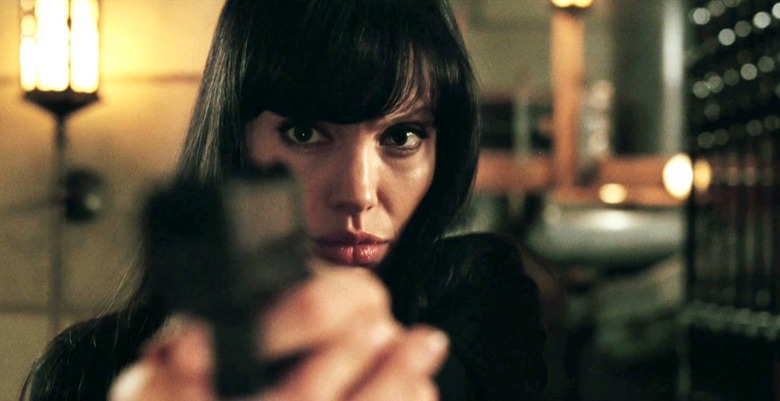 While the Angelina Jolie vehicle Salt wasn't a runaway hit in the U.S., it ultimately earned almost $300 million in worldwide box office — definitely enough to inspire some sequel chatter. But the actual process of making another film hasn't been so smooth. Director Phillip Noyce pulled out of the potential follow-up in late 2010, and earlier this year the project received a severe blow when Jolie rejected Kurt Wimmer's draft of the screenplay.
Columbia Pictures hasn't lost all hope, however. The studio is dusting itself off and starting over with Becky Johnston (Seven Years in Tibet, The Prince of Tides), who's now tasked with penning a new script that'll pass muster with Jolie. More details after the jump.
THR reports that the studio entered negotiations with Johnston after a months-long search for a writer that'd please all parties involved. That they wound up picking Johnston is a little surprising, as she's not the obvious choice for an action-oriented sequel. Both of her best known works are character-driven dramas, and her upcoming Arthur Newman (with Colin Firth and Emily Blunt) is being billed as a drama-comedy.
On the other hand, Johnston has also worked on Brad Bird's disaster pic 1906 and a Wonder Woman project. It's not clear whether the superheroine adaptation in question is the failed David E. Kelley pilot from last year or something else, but either way, it means Johnston has some relevant experience with ass-kicking femmes.
Even with Johnston attached, Salt 2 could take a while yet to really get rolling. No director has been announced, and while Jolie's upcoming schedule isn't crazy packed, she has a couple of other options (including Cleopatra) that could occupy her for a while.