'This Is 40' Red-Band Trailer Features Paul Rudd's Butt, Megan Fox's Boobs, And A Blurb From Your Favorite Movie Blog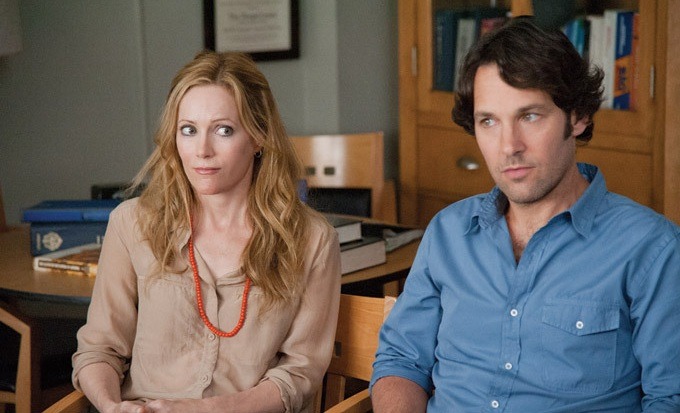 One can only guess how the horribly mismatched Ben and Alison from Knocked Up are faring these days, but in just a few weeks we'll get to see how their pals Pete (Paul Rudd) and Debbie (Leslie Mann) are dealing with being on the cusp of middle age. Universal has just dropped a new red-band trailer for Judd Apatow's This is 40, which picks back up with the bickering marrieds five years after we last saw them.
A few things have changed: Seth Rogen and Katherine Heigl are nowhere to be seen, Maude Apatow has grown from cute kid to angsty teen, and Albert Brooks, John Lithgow, Megan Fox, Chris O'Dowd, Melissa McCarthy, and Lena Dunham are joining in on the fun this time around. The winning blend of cozy sentiment and inappropriate humor, however, remains much the same. Watch the somewhat NSFW trailer after the jump. (And yes, smartasses, the "favorite movie blog" I'm referencing in the headline is /Film.)
If you've read Germain's full review, you'll know it's not entirely a glowing endorsement. Though he did indeed praise the film for its hilarity, he also called it a "mixed bag" that "tends to lose its way, then find it, then lose it, then find it again." But the bawdy humor is on full display in this new trailer (just like Pete's anus), and all of the newcomers seem like welcome additions to this offbeat little universe.
This is 40 opens December 21.
Writer/director/producer Judd Apatow (The 40-Year-Old Virgin, Funny People) brings audiences This Is 40, an original comedy that expands upon the story of Pete (Paul Rudd) and Debbie (Leslie Mann) from the blockbuster hit Knocked Up as we see firsthand how they are dealing with their current state of life.