New 'Star Trek Into Darkness' Image Identifies Benedict Cumberbatch As... John Harrison?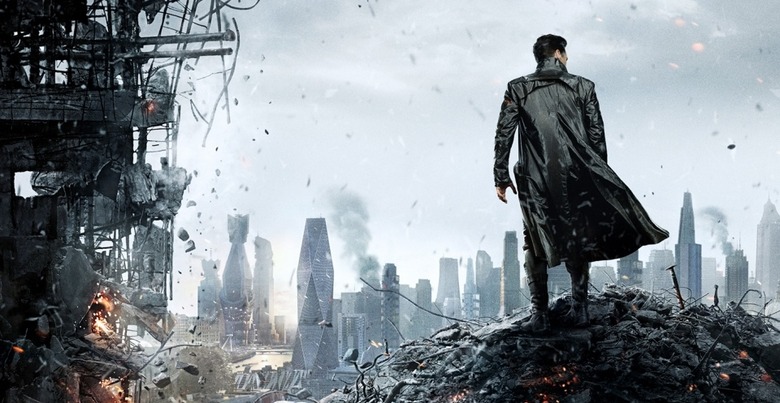 The first teaser trailer for Star Trek Into Darkness, from director J.J. Abrams, was oriented towards establishing a tone of menace and danger, but in general it was fairly light on classic Trek icons. The well-known Starfleet uniforms, and the USS Enterprise, for example, were barely seen.
Reports of the 9-minute IMAX preview that will be seen later this week in front of The Hobbit suggest that audiences will soon get a bit more classic Trek imagery from the new film. But for the time being, we've got a shot featuring Kirk (Chris Pine) and Spock (Zachary Quinto) in classic uniform, flanking the new villain (or is he old?) played by Benedict Cumberbatch.
And there's a bit of new info here, too, as the official caption for the photo finally gives as an ID for Cumberbatch's character: his name is John Harrison. Er, who?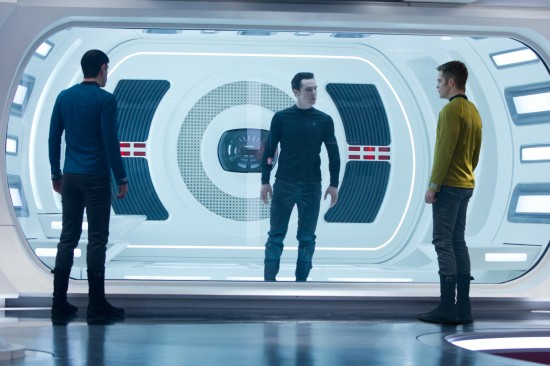 This is the caption: "(Left to right) Zachary Quinto is Spock, Benedict Cumberbatch is John Harrison and Chris Pine is Kirk in STAR TREK INTO DARKNESS from Paramount Pictures and Skydance Productions."
That name is likely a red herring, but I'll be excited to see what the serious Trek knowledge base can come up with by way of info.
When the crew of the Enterprise is called back home, they find an unstoppable force of terror from within their own organization has detonated the fleet and everything it stands for, leaving our world in a state of crisis. With a personal score to settle, Captain Kirk leads a manhunt to a war-zone world to capture a one man weapon of mass destruction. As our heroes are propelled into an epic chess game of life and death, love will be challenged, friendships will be torn apart, and sacrifices must be made for the only family Kirk has left: his crew.