Video Blog Reaction: 'Star Trek Into Darkness' 9 Minute IMAX Prologue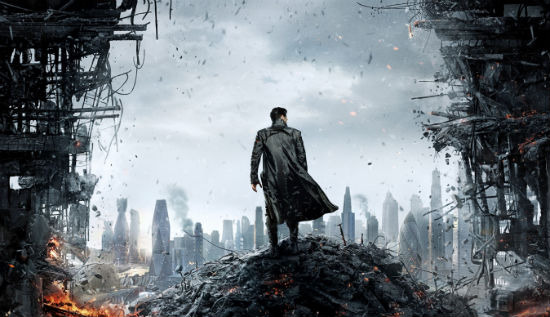 If for some crazy reason you forgot why you loved J.J. Abrams' 2009 reboot of Star Trek, you'll be quickly reminded in the sequel Star Trek Into Darkness. The first nine minutes of the film are visually impressive, exciting, incredibly surprising, and will be playing in front of select IMAX prints of The Hobbit starting December 14. We were lucky enough to get a sneak peak.
The film starts off soft, mysterious, and quickly jumps into a huge, exciting, colorful action scene that reintroduces you not only to all of your favorite Enterprise crew members – Chris Pine as Kirk, Zachary Quinto as Spock, John Cho as Sulu, Zoe Saldana at Uhura, Karl Urban as Bones, etc – but puts Michael Giacchino's brilliant score front and center. Even though the film is called "Into Darkness," there's obviously still plenty of humor and fun in this movie. Or, at least in the first nine minutes.
After the jump, read more about the 3D IMAX footage and watch a video blog reaction.
Here's a video blog featuring myself and Alex Billington of First Showing discussing the footage. It's largely non-spoiler. I'll get into a bit more detail (but nothing too crazy) after the video.
Basically, the film starts quietly. We see a character we don't know, played by Noel Clarke. He's in London, Stardate 2259.99 and after an emotional encounter, he's confronted by Benedict Cumberbatch who has a very inciting offer. Yes, Cumberbatch delivers the first line of dialogue in the movie, but we still don't know who he is.
We then cut to a planet that needs to be seen to be believed (there are shots of it in the teaser). Here's where we get reacquainted with the crew of the Enterprise. There are some very funny jokes and exciting action beats that are better left unspoken, but let's just say that many of your questions about the announcement trailer are dealt with directly. The fun fades quickly though and here, in the first nine minutes, the stakes immediately raise to near unprecedented proportions. Here's a hint: Abrams teased it on Conan.
From there, it goes into a teaser montage that very much resembles the announcement trailer.
Abrams' first 3D film looks like he has real command, giving us depth in some shots, and active things popping out in others. However, unlike The Dark Knight Rises prologue, the IMAX in this isn't consistent. It jumps from 35mm to IMAX and back again. Not seeing the footage in full IMAX, it was impossible to tell if this would be distracting or not.
Either way, if you're not sure which way to see The Hobbit and this is an option, go for it. Especially if you are excited for Star Trek Into Darkness. The footage is very exciting and immediately reminds you how and why you've been looking forward to this movie for over three years.
Oh, and this. Because. You'll see.