Kyle Chandler Not All That Interested In A 'Friday Night Lights' Movie Sequel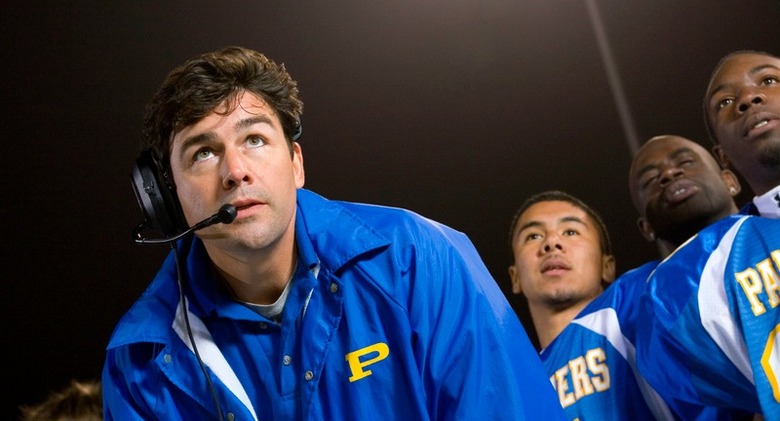 By now, it's become a familiar pattern: A brilliant series gets cancelled, movie sequel rumors begin to circulate, and for the next several years the actors, filmmakers, writers, and producers involved with the show drop encouraging but vague soundbites about the project. Eventually, public interest usually just peters out. In rare cases, something actually gets made.
Friday Night Lights is currently in the "vague soundbites" phase, and for the past year and a half we've been hearing from show creator Peter Berg and others that the movie was in the works. But star Kyle Chandler, apparently has no interest in teasing a potential return. In fact, he doesn't think the movie is even such a hot idea. Read his comments after the jump.
My general attitude about Friday Night Lights is, it was a great movie with Billy Bob [Thornton]. It was a great TV show. I never had more fun doing anything. [...] But they ended it at exactly the right time, and exactly the right way as well.
He added that he was satisfied with where the show had left off. "I'm so happy [with the ending]," he said. "I think they did a great job."
If Chandler really is uninterested in reprising his role, that could stop Berg's big-screen plans in their tracks. Even within the large ensemble cast, Coach and Tami were really the heart of the show. Without them, it just isn't Friday Night Lights. Moreover, Chandler has a point — it's tough to see how a movie version could improve on the series finale. (Not that I wouldn't be first in line for said film.)
Chandler's not the only FNL alum who'd rather just leave the show alone. During the Battleship press tour earlier this year, Taylor Kitsch said "I loved the way I left Riggs," though he acknowledged the possibility of a cameo appearance. But others have been more receptive to the idea including Connie Britton, who said everyone just needed to "make it a priority."