Kristen Wiig Could Be A Comedic Foil In 'Anchorman: The Legend Continues'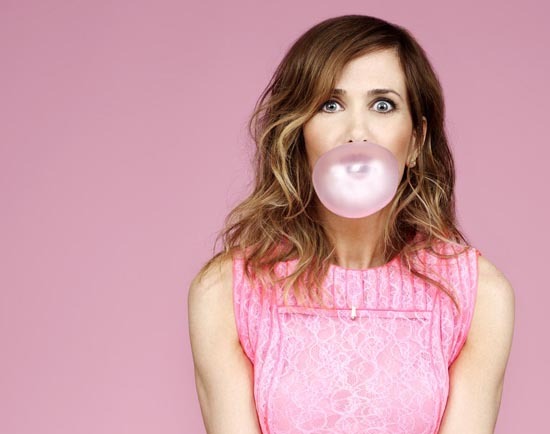 Even if only its principal actors returned, Anchorman: The Legend Continues has an incredibly star-studded cast. Three members of The News Team are legitimate above the title stars: Will Ferrell, Steve Carell and Paul Rudd. The others, David Koechner and Christina Applegate, are no slouches themselves. But when co-writer and director Adam McKay promised a "murder's row of day players" in the film, the mind began to race and now the first name may have been revealed.
Bridesmaids' star Kristen Wiig has reportedly been approached for a role in the late 2013 release and it sounds particularly fun. Read about it after the jump.
According to The Wrap, who broke the news of Wiig's possible involvement, she'd play "opposite Steve Carell, as a love interest of some kind." However, with the script still being written and no one officially cast, this could possibly change. It could be a large part, small part, or nothing at all.
Wiig's potential involvement makes plenty of sense though. It was, after all, Anchorman producer Judd Apatow who decided to use the then rising Saturday Night Live star for a small role in Knocked Up, which helped launch her film career. He also produced her star making film Bridesmaids.
In Anchorman, Carell plays Brick Tamland, a kind hearted man with a near negative IQ who made the phrase "I love lamp" famous. If Brick is getting a love interest in the film, played by Wiig, that might hint the other members of the News Team could be shacking up too. Maybe, somehow, this makes the usual ladies man Ron Burgandy jealous? I'm obviously speculating.
Do you like the idea of Wiig in Anchorman 2? With a March shoot date expected, will the film be ready for October 2013? Who else should have a role?