How Are The Original 'X-Men' Stars Being Used In 'X-Men: Days Of Future Past'?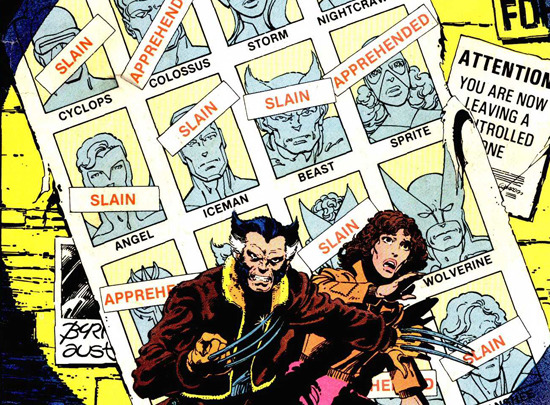 Fox, producer Bryan Singer, and the writing and directing team that included Jane Goldman and Matthew Vaughn did some deep playing around with the onscreen X-Men franchise in X-Men: First Class. The film recast several primary characters, as it told a story from their youth, but also did a few things that contradicted the existing X-Men movies in a notable way.
Not a big deal for some audiences, but for a continuity-obsessed fan base — one encouraged by the notably knotted timeline of comics featuring the mutant characters — there was a lot to think about.
The next film in the series, X-Men: Days of Future Past, seems like it might address some of those continuity issues. It brings the First Class cast (James McAvoy, Michael Fassbender, Jennifer Lawrence and Nicholas Hoult) into a story that also features original actors Patrick Stewart and Ian McKellen, as well as Hugh Jackman, whose First Class cameo was one of those little kinks of continuity. How will the older actors be integrated into a story dominated by the younger cast? You probably know by this point that Days of Future Past jumps back and forth on the timeline, and that's the key. But it sounds like there might not be too much interaction between the old and young cast. 
In a THR article on securing the actors for this new film — which mentions this:
Jackman and the others will appear mostly in scenes depicting an alternate dystopic future, so pay and time commitments are not substantial.
When the big cast returns were announced, some suspected that meant that they would be involved in a way that amounted to much more than big cameos. But that line suggests otherwise. That said, it's early and our knowledge of the script is based primarily on the published comic book storyline from which the film takes its name, and the script may not closely adhere to that story in more than concept.
We don't have any confirmation about the possibility of other cast members showing up from the first three X-Men films, but expect a few, such as Halle Berry and James Marsden, even if they only make cameos. Having Bryan Singer in the director's chair is reportedly making it fairly easy to get people back on board.
And then there's this tweet from Bryan Singer, teasing the first page of the Days of Future Past script. I'll let someone with better Photoshop skills than my own see if there's anything that can be done to read the next page. (I tried, and got nothing legible.)
X-Men: Days of Future Past is scheduled to shoot next year.