Joss Whedon Has Submitted His Outline For 'The Avengers 2'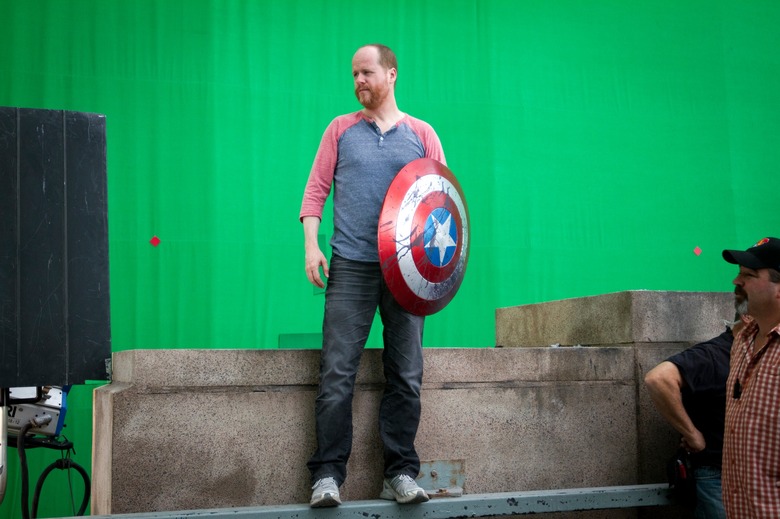 Recently, Joss Whedon was named one of Entertainment Weekly's entertainers of the year. This is not a surprise. He wrote and directed the year's biggest film, The Avengers, proving that the seemingly impossible task of making a movie filled with multiple superheroes wasn't impossible at all. In addition, he signed on to creatively shepherd the rest of the Marvel Cinematic Universe and will co-write, produce and direct Marvel's S.H.I.E.L.D, the Avengers-related TV spin off. He also shot a small Shakespeare film in the middle of all that. Yup, 2012 was a good year to be Joss Whedon.
In EW's interview with the writer/director, he revealed the outline for his next film, a little something tentatively called The Avengers 2, has just been submitted in preparation for its May 1, 2015 release. Read more after the jump. 
Here's the excerpt from the Entertainment Weekly article (hat tip to Coming Soon):
We met with him just days after he had submitted an outline for the 2015 sequel The Avengers, and as he was in the midst of preparing to shoot the pilot for what could be his next television series: S.H.I.E.L.D, a spy-fi drama tracking the ongoing adventures of the secret agents and superhero wranglers of Marvel's movie world. If ABC he picks up the series, Whedon will remain involved as exec producer, and frequent collaborators Jed Whedon, Maurissa Tancharoen (Dollhouse, Dr. Horrible) and Jeffrey Bell (Angel) will serve as lead showrunners.
Obviously, there's no real news here beyond the fact that the long road towards May 1, 2015 has reached its third checkpoint: director, release date, outline. But that's still pretty exciting considering the end game is the final film of phase two of the Marvel Cinematic Universe. Plus the fact that, right now, on Kevin Feige's desk, is a proposed plot for The Avengers 2.
Feel free to speculate above about what the outline might entail below.