Star Wars Bits: FTC Approves Disney-Lucasfilm Deal, Plus: 'Extreme Makeover: Home Edition', Dark Horse Comics, The Millennium Falcon Project, Peter Jackson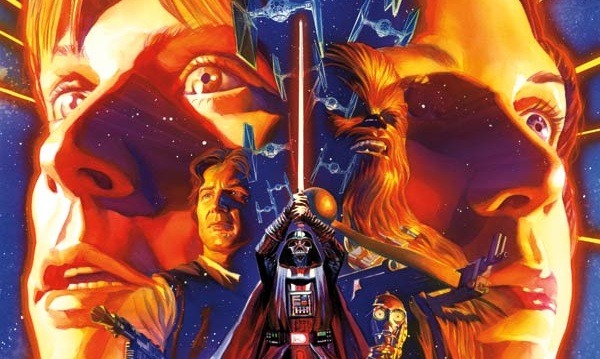 We've been treating Disney's Lucasfilm acquisition like it was a done deal, but in fact it still hasn't quite closed. It did take a step closer this week, though, when the U.S. Federal Trade Commission reviewed the proposed acquisition and gave it the go-ahead. Neither company has announced when exactly the deal will be finalized. [The Force]
Also after the jump: Darth Vader pitches in on Extreme Makeover: Home Edition, Dark Horse has big plans for 2013, fans build a life-sized Millennium Falcon, and Peter Jackson cites Star Tour as his 48 fps inspiration.
However, a source tells EW that the episode was actually shot well in advance of Disney's Lucasfilm acquisition. Moreover, Extreme Makeover: Home Edition isn't technically owned by ABC (and therefore Disney) at all, but by Endemol. In short, Extreme Makeover: Home Edition really isn't a good indication of Disney's plans for the property. So with that in mind, go ahead and enjoy this cute snapshot of a helpful stormtrooper with a worry-free heart.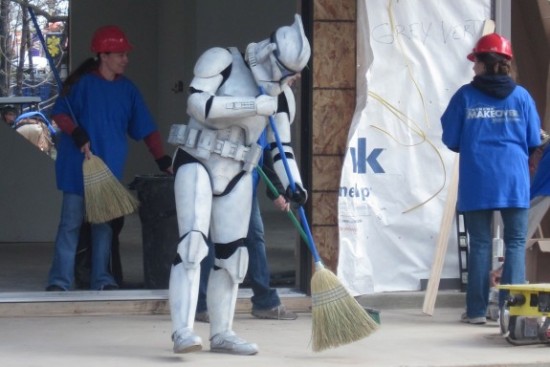 [Deadline]
While we wait for Star Wars Episode VII to open in 2015, we'll have plenty of other stories from the galaxy to entertain us. Dark Horse has announced that Star Wars: Legacy will return next year. Created by John Ostrander and Jan Duursema, the series first launched in 2006 and ran for 50 issues before wrapping with a six-part miniseries in early 2011.
The relaunched series will be written by Corinna Bechko and Gabriel Hardman. Whereas previous books revolved around Luke's descendant Cade, the relaunched series will pick up with Leia and Han's great-granddaughter roughly one century after the events of the original trilogy. Check out Dave Wilkins' cover for the first issue below: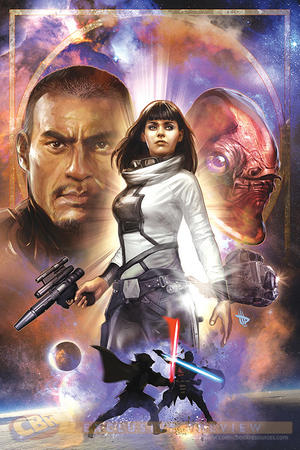 In addition, Dark Horse is also debuting a new monthly comic simply titled Star Wars, from Brian Wood and Carlos D'Anda. This one unfolds during the three-year gap between A New Hope and The Empire Strikes Back, following the central trio of Luke, Leia, and Han. See a preview of the first issue here:
Head to Nerdist for more. Star Wars #1 hits shelves January 9, 2013.
Pretty much any fan of the Star Wars universe fantasizes about stepping onto the Millennium Falcon themselves, but only the most devoted actually try to make that dream a reality. A fan named Chris Lee is spearheading the Full Scale Millennium Falcon Project, which is exactly what it sounds like. Though it won't actually have the capability to fly through space — it won't even have a working engine — the goal is to make it look exactly like the ship featured in the movie.
Lee is working from a 3D model created by Stinson Lenz, and has purchased an 88-acre plot in Tennessee for the ship. Lee's intention is to use the space as a workshop where students can learn to paint, build, or weld. Click below to watch Lee explain in a BBC segment.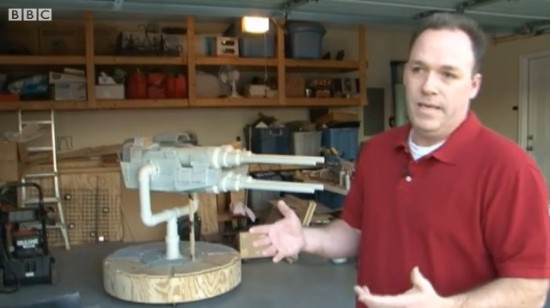 Keep up with their project at FullScaleFalcon.com.
Peter Jackson's "revolutionary" use of 48 fps in The Hobbit: An Unexpected Journey has been getting mixed responses, but whether you love it or hate it you can thank George Lucas for it. During a press conference, Jackson specifically cited the Star Tours ride at Disneyland as one of his inspirations for using the higher frame rate:
I'm fascinated by reactions. I'm starting to see that anyone under the age of 20 or so doesn't really care, and thinks it looks cool and doesn't really understand it. They often just say just that the 3D looks cool. I think 3D at 24 frames is interesting, but its the 48 that actually allows the potential that it can achieve. There's less eye strain and you have a sharper pictures which creates a more three dimensional world. It's interesting how the frame rate changes the 3D, as well as making it more comfortable to watch.
The history of it, I had seen a couple of high frame rate movies. I'd seen a tourist film when I was young in New Zealand that was playing in a ski resort and I was pretty impressed by that. I remember going to Disneyland and seeing the Star Tours ride that George Lucas did, which is a high frame rate. You're speeding in the Star Wars spaceship. And then I had direct experience with it about three, four years ago. I directed a King Kong attraction for Universal studios in California which was 60 frames a second 3D short surround film. And I just thought wow, this is so cool. I wish we could do a feature film like this. But of course while there were mechanical projectors around the world they were locked into 24 frames. It was an infrastructure since the 1920s that existed that was never going to change. But the advent of digital projectors that allow all this development to happen.
There's a big difference between what audiences want in a theme park ride and what they want in a movie, and only time will tell whether Jackson's film is actually able to bridge that gap. As influences for thrilling adventures go, however, Jackson could've done worse. Star Tours is pretty damn fun. [io9]