Watch Twenty Minutes Of 'The Other Side Of The Wind,' The Final Unreleased Movie From Orson Welles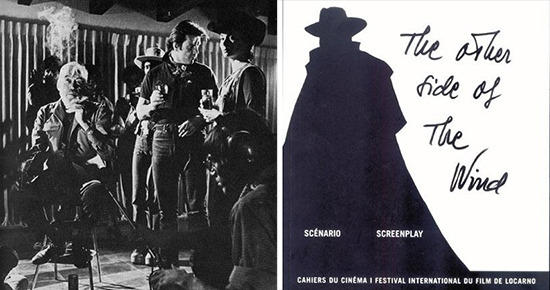 We may receive a commission on purchases made from links.
Any fan of cinema must be, I think, necessarily interested in Orson Welles. And for anyone interested in Welles, there are two holy grails. One is the footage cut from his original version of The Magnificent Ambersons. That footage, sadly, simply doesn't exist any longer. The other grail is The Other Side of the Wind, which is the long-uncompleted final film from Welles.
The movie stars John Huston as declining film director Jake Hannaford, and features a huge cast including Peter Bogdanovich, Bob Random, Susan Strasberg, Joseph McBride, Mercedes McCambirdge, Lilli Palmer, Oja Kodar, Dennis Hopper and a host of filmmakers appearing as (more or less) themselves, including Henry Jaglom, Paul Mazursky, and Claude Chabrol. Featuring many improvised scenes, and shot with an off-the-cuff style, it would have been a free-form experiment unlike anything else in Welles' catalogue.
Due to a combination of factors, most notably the passing of Welles and a very complicated string of rights negotiations that followed, The Other Side of the Wind has never been finished and released, despite continued efforts to complete it. Some small portions have been shown over the years, but now twenty minutes of additional footage has been made available online.
I became aware of this thanks to Ignatiy Vishnevetsky, who tweeted this morning, "Most important YT upload of the year? 30 mins of clips from Welles' still-unreleased THE OTHER SIDE OF THE WIND."
In fact, it's only about twenty minutes of footage, because the last ten minutes is extraneous stuff, and even a couple minutes of blank screen. Regardless, the twenty minutes of footage, featuring Huston, Jaglom, Bogdanovich, and more, is an incredible release.
Some background:
The movie was intended to be a wide critique of Hollywood at its moment of transition from old studio system to New Hollywood, and featured the death of Hannaford, Huston's character, just as he's trying to make a directorial comeback. Most of the movie takes place on the day before Hannaford's death, which was his 70th birthday. The film's opening was meant to explain,
This [film] was put together from many sources — from all that footage shot by the TV and documentary film-makers — and also the students, critics and young directors who happened to bring sixteen and eight millimeter cameras to his birthday party...
Welles was influenced by then-evolving tendencies in underground cinema and designed the film as a collage of color, black and white, still photos, 8mm, 16mm, and 35mm film. In short, had the film ever been finished and released, The Other Side of the Wind would have brought the found-footage aesthetic to big filmmaking decades earlier than it happened without the movie coming to pass.
In the book This is Orson Welles (an absolutely essential read) Bogdanovich relates that Welles asked him to finish the film in the event of his death. The fact that the film remains unreleased to this date has led some to be angry at Bogdanovich for not stepping up. In reality, because Welles financed the film himself through a wide collection of financial opportunities, the rights to The Other Side of the Wind are a very complicated issue. With something as potentially valuable as Welles' final movie, no one wants to give up their piece of the pie, and so working out a clear path of ownership has taken decades.
(For example, some of the money came from a relative of the Shah of Iran in the mid-'70s, but when the Shah was deposed all of his assets — including this negative — were seized by the Ayatollah Khomeni. Though the film was eventually released to other holders, things like that make finishing the movie difficult.)
Showtime has been ready to fund the completion since 1998, but this year Matthew Duda, the man there who was pushing to get the project done, retired. So that window of opportunity may have passed. Still, this past April, Bogdanovich said,
The update is that we got stalled again and now I think we're going to get unstalled finally. Every week it's something different. We've looked at the footage and it's great. I cut two scenes together that hadn't been finished. There are a few scenes that Orson already cut together and then for the scenes that I cut, he had picked takes but just hadn't assembled them. So we just used his takes and I could tell what he had in mind. It's very different than anything else he made and quite strange. I don't think any of us will know what it is until it's done. I don't know when it will come out, but I think one day it will.
For now, I'll keep hoping that comes to pass. Until then, here's a big chunk of unseen footage from The Other Side of the Wind: