'Armada' From 'Ready Player One' Author Ernie Cline In Development At Universal [Updated]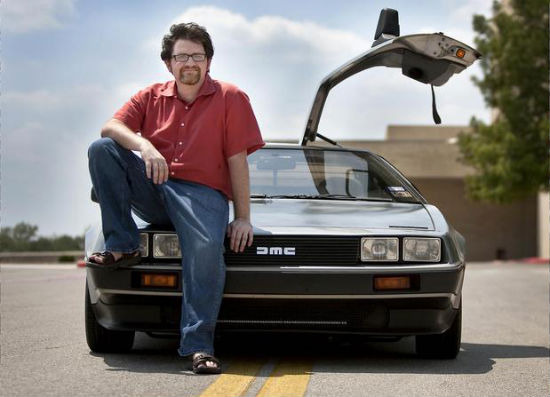 Update: Today Variety reports that Universal has picked up rights to Armada, and is developing a film with Scott Stuber's Bluegrass Films (Ted, Safe House) and Dan Farah's Farah Films. The Hollywood Reporter then offers the following, Last Starfighter-esque details on the plot: "ARMADA centers on a group of MMO players who play a game titled Armada that are recruited by a govt agency to use their unique skills, honed by playing the game, to fight a larger threat."  The rest of the original text follows after the break.
Often there's an entertainment story that doesn't have an express movie angle, but we feel our readers should take notice anyway. This is one of those stories. In the movie world, most people know the name Ernie Cline because he wrote and conceived Fanboys, Kyle Newman's tale of a group of friends breaking into Skywalker Ranch to see Star Wars Episode I. While the film isn't particularly well-regarded (it surely has its fans but went through Hollywood hell) I'd be lying if I said that premise didn't please my geeky desires.
Cline followed that idea with an even bigger and better one. That was Ready Player One, a futuristic tale stuffing social networks, the '80s, video games, music and movies into an action-packed story about the race for the world's biggest fortune. If you love the things we write about on this site, the book was written for you. Warner Bros. owns the movie rights and the project is still in development.
None of that is what this story is about. That's all preamble to give context to the following info. Ernie Cline has been given a seven-figure advance for his next book, Armada. Story details are still secret but Variety says the story has "a high-concept hook that offers the ultimate wish fulfillment to every video game fan on the planet."
Crown Publishing, a division of Random House, gave Cline the advance based on a twenty page treatment. The film rights will likely be shopped around Hollywood over the next week or so and are expected to be picked up fast.
When I picked up Ready Player One I expected to like it, but "like" is an understatement. I loved it. Even though I never wanted it to end, I couldn't stop and  devoured it in two sittings. It's that entertaining. Head to its Wikipedia page to get an idea. They've culled all the pop culture references its built from and the list is staggering. Some may feel Cline's style and influences are too pop culture centric but if you're into that kind of stuff, he's well on his way to becoming a geek deity, if he hasn't become one already. (That header photo is from a contest where he travelled the country in a Delorean and shepherded a massive contest, just like in the book.)
So what's the point of all this? Just that Cline has a new book on the way, it sounds incredibly exciting and that information should be useful for whenever it hits book shelves or a movie screen.
Read Cline's thoughts on the deal here.
Are you excited for what Armada could potentially be? How long until you think we see the film?