Matt Damon In Talks For George Clooney's 'The Monuments Men,' Says 'The Bourne Legacy' Complicates His Franchise Return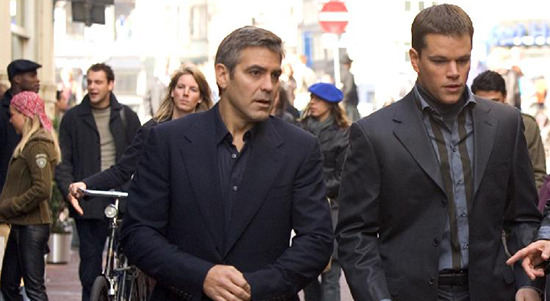 Matt Damon and George Clooney have a great history together on screen thanks to Syriana and the Oceans films, and now they're set to make history together. Or re-make history, as it were. Damon is in talks to join the cast of Clooney's Monuments Men, the film that will chronicle "a crew of art historians and museum curators who unite to recover renown works of art that were stolen by Nazis before they are destroyed."
Clooney wrote with producing partner Grant Heslov, and will star. The rest of the cast is pretty phenomenal, too, with Daniel Craig, Bill Murray, Cate Blanchett, Jean Dujardin (The Artist), John Goodman, Hugh Bonneville, and Bob Balaban set to appear. Almost could be a WWII-era Oceans film; just add Brad Pitt. Deadline also says that the film will basically import all of Ben Affleck's crew from Argo, which Clooney and Heslov also produced. It all sounds top-notch, frankly.
After the break, Damon talks about the effect The Bourne Legacy might have on his return to the Bourne series.
Prior to the release of The Bourne Legacy there was some talk that one eventual goal on the producer side was to bring that sequel's new characters into the same film with Matt Damon's franchise namesake Jason Bourne. The Bourne Legacy added a whole new angle of chemical-based augmentation that turned government agents into super-operatives. And it sounds like Damon isn't all that interested in following through with a story that would have to integrate such a plot device.
Asked by The Playlist about the film, Damon said,
I think it's going to make it harder for us to make another one. I'm just trying to figure out like... Because they used our characters, anything that happens in that world, that's the 'Bourne' world now. So the pill popping and all that stuff happens.
Asked about doing a film that involved he and Jeremy Renner's Legacy character, Damon said,
I don't know what that story would be. I love Jeremy and I'm a huge fan of him and I know him personally and love him outside of work, too. But I just don't know what that story would be. I could never see Bourne teaming up with anyone. And all he said was – he wanted out, he wanted out, he wanted out. So how do you get that character going again?
It's easy to take something like this out of context, or to blow it out of proportion. Frankly, it isn't necessarily Damon's job to figure out what the story would be, and if someone else was able to knock together something compelling, there's always the chance that he (and director Paul Greengrass) might walk back into the franchise.
But this uncertainty about a story has been a problem for the Greengrass team before. Damon explains that part of the reason he and Greengrass didn't do a fourth film was lack of story. "Literally, we couldn't figure out how to do it three years ago," he said before explaining that an expiring rights deal made the creation of a new film a pressing matter, and so The Bourne Legacy happened in part because the Greengrass team didn't feel there was anywhere to go.