'Rise Of The Guardians' May Be A Disaster For DreamWorks Animation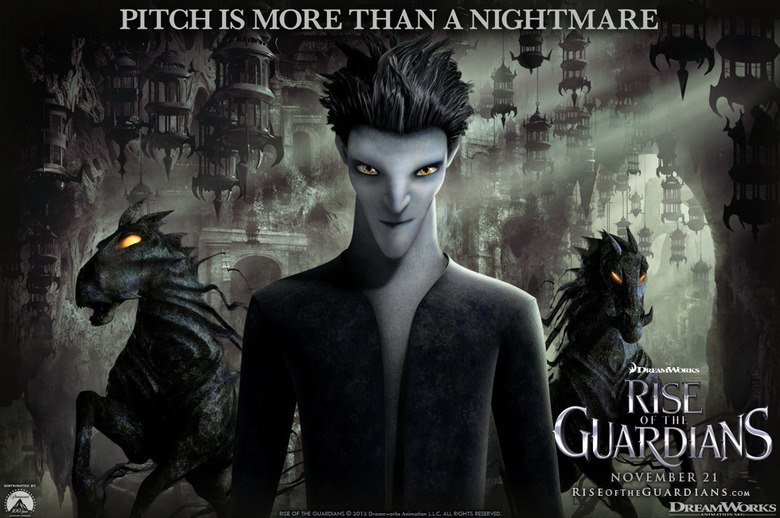 A simple tweet expressing my love for Rise of the Guardians was a pretty good indicator the film was going to struggle. I loved the film, likening its action-packed team up idea to The Avengers, but the backlash against the movie was immediate. Critics, for the most part, liked the movie — it sports a solid 74% on Rotten Tomatoes — but with strong competition at the box office for all quadrants, and no real word of mouth, the film flopped. The animated film, produced by Guillermo Del Toro with a reported budget of $145 million, opened at number four with just under $24 million. For most movies, that would be great, but not so much for a 3D family-oriented animated film.
Early reports now state DreamWorks Animation is braced to lose a massive $50 million on the film, putting their upcoming slate in hot water. Is this a sign of things to come? Read more after the jump.
The report comes from the team at The Wrap, who called the film "another blow to a company that has struggled to find its footing on Wall Street and may expose cracks in film schedules that are overly reliant on animated fare."
No one at DreamWorks would comment on the possible $50 million loss, but prominent financial analyst Ben Mogil released a statement:
What we take from this 'Guardians' experience is that where once there was an implied domestic box-office floor on a movie from the company, particularly in the 3D era, of $150 million, that is no longer the case. Also clearly no longer the case is the mantra that the lack of competing animated titles will automatically grant a movie clear box office sailing.
Really, that's the most interesting part of this huge conversation. While there are certainly animated films that flop, most of them don't. There's a built-in demand for animated fare, especially around the holidays, which is why movies like Alvin and the Chipmunks make hundreds of millions of dollars. Rise of the Guardians looks like an anomaly. Can its failure be credited to competition at the box office, the marketing, or maybe just the holiday season having an effect on the economy? All are probably valid in some way.
One thought not brought up in The Wrap piece (which is worth reading for its more clinical analysis of this situation, including the possibility that Guardians could do better moving ahead with so few kids films being released in the coming weeks) is that the film hinges on an innocence that doesn't seem to be as prevalent as it once was. Many of my friends are parents and they raise their kids to believe in the film's characters like the Tooth Fairy, Santa Claus and Easter Bunny. But at what age do those kids stop believing and those icons to be stupid? I'd bet it's earlier than it once was, with information so much easier to access than in decades past. (Just type "Is Santa Claus" into Google.) Does this film's core audience, kids between the ages of 8-12, who may have a particular notion about Santa, really want to see him beat up some bad guys? Maybe not.
DreamWorks has three films scheduled for release in 2013: The Croods (opening March 22, 2013), Turbo (July 19, 2013) and Mr. Peabody & Sherman (Nov. 1, 2013). And while that seemed like a solid slate of sure-fire hits, maybe now it isn't.
What are your thoughts on this? Why did Rise of the Guardians bomb? Will it rebound? Does this mark the beginning of the end of 3D animation or is Guardians just the wrong sort of flash in the pan?