Online-Only 'Star Trek Into Darkness' Teaser Hits Thursday, Plus: Rumored Trailer Description, Global Release Dates, Zachary Quinto, J.J. Abrams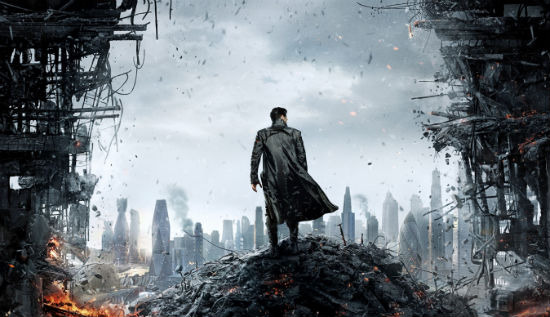 We've been waiting literally years to take a peek at Star Trek Into Darkness, so it's great to hear that we may get the chance sooner than we thought. Last month, we got word that the first trailer (and/or a 9-minute IMAX prologue) would debut with the release of The Hobbit: An Unexpected Journey on December 14. However, TrekMovie.com has now confirmed that a teaser will in fact debut this Thursday, December 6.
The one-minute video is a web exclusive separate from the two-minute version attached to The Hobbit. The latter will presumably hit the Internet shortly after it bows in theaters.
Also after the jump:
Someone on the Internet claims to have seen the trailer already
Zachary Quinto drops by Conan with a (fake) Star Trek clip
J.J. Abrams is excited to finally show you some juicy footage
Paramount uploads a comprehensive list of global release dates
I've seen the trailer – it doesn't confirm that [Benedict] Cumberbatch is playing Gary Mitchell. He has a monologue where he mentions "revenge" and he looks to have stronger than human strength, so it's a possibility.
Also, the Enterprise goes underwater. It's going to make a beautiful desktop wallpaper
In follow-up comments, "Jeff" clarifies that the Enterprise is seen both crashing and rising out of the water, that Cumberbatch is wearing a black outfit — possibly the uniform previously seen in set photos — and that he speaks over the whole teaser using his normal (British) accent. In addition, he remembers "Alice Eve screaming (at what, I don't know)" and "some walking around on a lava-like surface." We'll see whether his claims stand up when the trailer debuts next weekend.
The last time J.J. Abrams went on Conan, he presented a three-frame glimpse of Star Trek Into Darkness. When Abrams' star Zachary Quinto swung by the show this week, he was able to offer a longer clip... it's just not a particularly accurate one. For starters, what the hell is Andy Richter doing in outer space?
(Note: Yes, this is a joke. In case that wasn't 100% clear.)
Quinto also offered a story about having fans in high places — specifically, the White House. President Barack Obama himself apparently gave Quinto the Vulcan salute.
Abrams is famously secretive when it comes to his upcoming movies, but that doesn't mean he's not eager to show off his work when the time is right. Speaking about the impending release of the Star Trek Into Darkness trailer, he said:
You know, I'm excited because we've been working on this for awhile, and the idea of getting some of the movie out there to the world is going to be a real thrill for us, and as always you just hope people will like what they see.
He's particularly excited to demonstrate his work with the IMAX cameras:
It was amazing. Part of it was challenging because of the technical aspects of it, the machinery of it. The cameras themselves are a little unwieldy and a little loud and unpredictable. But then you go to dailies and you watch on this massive screen these images that you've shot having been filmed on a negative that's eight times bigger than what you normally use, and you cannot believe how good it looks. So that's exciting! But unlike Ghost Protocol, a lot of what we shot is integrated into special effects and visual effects in a way that I cannot wait for people to see. I think it really is mind-blowing, how it looks. The IMAX frame, I think, is really the best way to see a movie.
Head to IGN for the rest of the interview. [via Comic Book Movie]
American filmgoers have had Star Trek Into Darkness' May 17, 2013 release date on their calendar for months. But if you're not in the U.S., you may want to check out Paramount's comprehensive list of opening dates, local websites, and Facebook pages for all countries here.
Most of the dates fall within a month of the U.S. release, with a handful of markets even scheduled to get the movie a day or two earlier. There are a few stragglers, however — poor Japan will have to wait all the way until September 13. Perhaps they can hop on a plane to nearby South Korea, where it opens May 30. [via TrekMovie.com]