Animation Bits: Metal Band Mastodon Making Music For 'Monsters University,' Pete Docter's New Film May Be Titled 'The Inside Out,' Plus 'Frozen' And Director's Roundtable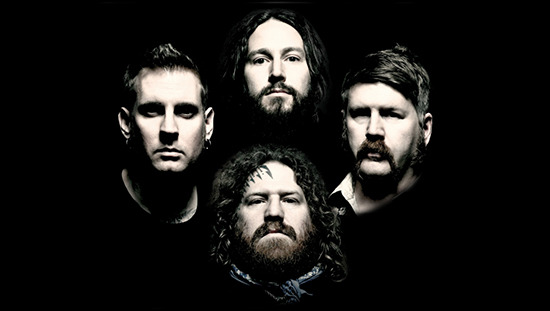 I didn't ever expect to see any link between metal and a Pixar movie, but we're living in a wonderful world. And so the metal band Mastodon, which has already scored Jonah Hex (twice!) and contributed music to the Aqua Teen Hunger Force movie, will have a song in Monsters University. Weird, right? The info comes straight from the band, and I can confirm that it isn't a joke. Unfortunately I can't tell you just how the song is being used, but expect to hear it in a good context to bring the band into the film's world.
We probably won't know any more until Monsters University is much closer to opening, on June 21, 2013.
After the break, Pete Docter's new Pixar film — the one taking place inside a young woman's mind — is reportedly titled Inside Out; Disney's Snow Queen retelling Frozen gets a new logo; and an animation director's roundtable breaks down the business.
Bleeding Cool got word that the film is moving towards having an official title, and that the current choice, while not set in stone, is The Inside Out. That seems mildly corroborated by the fact that a European Disney exec recently referred to the title in an interview. We'll have to wait for the official announcement from Pixar to be sure, but don't be surprised when it crops up.
Moving over to Disney, there's this new logo for Frozen, the new take on Hans Christian Anderson's story The Snow Queen. The film features the voices of Kristen Bell and Idina Menzel, and just recruited Wreck-It Ralph co-writer Jennifer Bell to co-direct along with Chris Buck.

That's a lot less chilly than the last treatment we saw. Here's the plot:
When a prophecy traps a kingdom in eternal winter, Anna, a fearless optimist, teams up with extreme mountain man Kristoff and his sidekick reindeer Sven on an epic journey to find Anna's sister Elsa, the Snow Queen, and put an end to her icy spell. Encountering mystical trolls, a funny snowman named Olaf, Everest-like extremes and magic at every turn, Anna and Kristoff battle the elements in a race to save the kingdom from destruction.
Finally, if you enjoyed last week's directors roundtable from THR, you might also like this conversation from the LA Times, which features Mark Andrews (Brave), Peter Ramsey (Rise of the Guardians), Chris Butler (ParaNorman), Rich Moore (Wreck-It Ralph) and Genndy Tartakovsky (Hotel Transylvania). In the hour-long talk, they discuss all manner of topics related to directing animation, from navigating the pitfalls of being a first-time feature director to using test screenings as a way to gauge a film's comic effect.