Ride Video: Epcot's New 'Test Track' Ride Looks Like A Trip Inside 'Tron'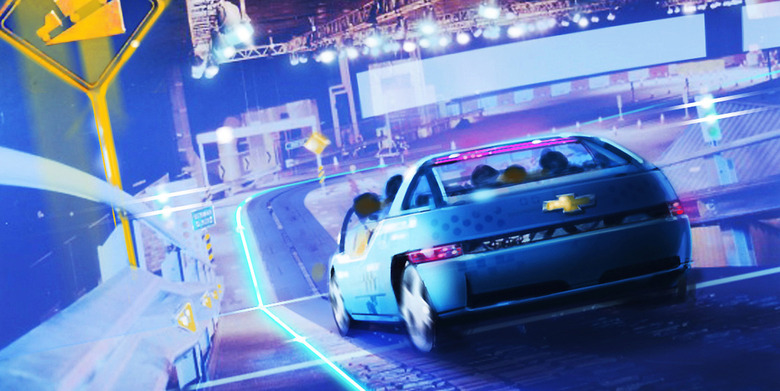 Epcot Center at Walt Disney World in Orlando, Florida has several marquee rides, few of which are more fun than Test Track. The grandfather to Cars Land's Radiator Springs Racer, the ride puts patrons in a car, which runs through a series of safety tests and then shoots around a track at upwards of 60 miles per hour.
If you haven't been to Disney World recently, you may not have known that the popular ride, which opened in 1999, has been closed for reimaging. It reopens this week, December 6, and has done away with the original industrial theme in favor of a futuristic theme similar to the world of Tron. After the jump, check out the new ride video, a video comparing the two versions, and a few pieces of concept art like the one above.
Thanks to Disney & More for the heads up, images and some of the info.
The first image is what the new cars look like, the second one is an early idea of what it looks like inside and the final two are concepts from the queue.
And thanks to Inside the Magic for this ride video.
You can also watch the new ride, and the old one, side by side at this link.
The official Test Track website has the following info on the new ride, which allows riders to design their own car before taking their test drive.
Get revved up for the exciting, re-imagined Test Track Presented by Chevrolet—the exhilarating driving experience, now designed by YOU! You'll feel like you're part of the Chevrolet design studio as you create your own virtual custom-concept vehicle. Then, put your design through its paces (at speeds of up to 65 miles per hour) on the exciting hills, hairpin turns and straightaways of the Test Track circuit.
And that's just the beginning of your adventure! After your "test drive" is over, you can:
See how well your car performed
Produce and share a TV commercial starring your "dream ride"
Explore a Chevrolet showroom, complete with shiny new cars on display