Guillermo Del Toro Will Follow 'Pacific Rim' With Haunted House Movie 'Crimson Peak,' Hopes For 'At The Mountains Of Madness' Revival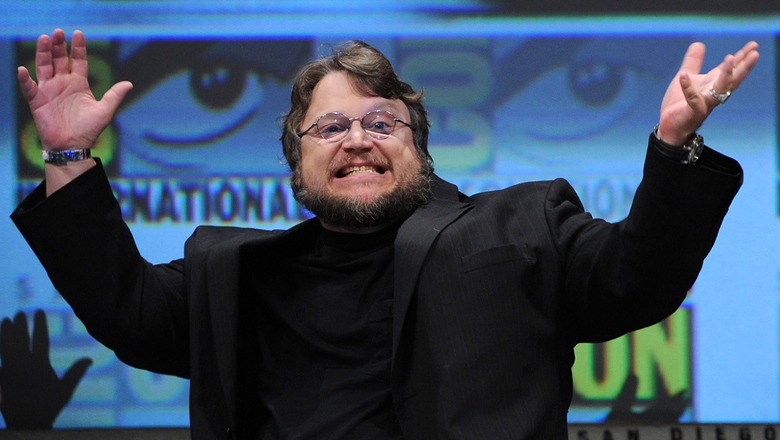 While Guillermo del Toro's biggest movies (prior to next year's Pacific Rim) have been derived from comic book characters (Hellboy and Blade), his best work to date has been sourced from a certain supernatural influence. The Devil's Backbone, Cronos, and Pan's Labyrinth are either literally ghost stories, or very much kin to them. And now the director is going back to ghosts after Pacific Rim.
Written by del Toro after Pan's Labyrinth and originally sold as a spec to Universal, a picture called Crimson Peak has now been confirmed as his next movie. The filmmaker says the story is "a very set-oriented, classical but at the same time modern take on the ghost story."
Deadline reports on the confirmation, saying that del Toro will oversee a script rewrite with Lucinda Coxon, and that they'll aim to shoot in early 2014. (Remember that his release Pacific Rim doesn't hit until July of next year, after which he'll have many promotional duties.) He says "[Crimson Peak] will allow me to play with the conventions of the genre I know and love, and at the same time subvert the old rules."
Guillermo del Toro also says that Legendary is going to let him play with money a bit, so that he'll be able to create a big, old-school haunted house movie.
To me that is Robert Wise's The Haunting, which was a big movie, beautifully directed, with the house built magnificently. And the other grand daddy is Jack Clayton's The Innocents. I've always tried to make big sized horror movies like the ones I grew up watching. Films like The Omen, The Exorcist and The Shining, the latter of which is another Mount Everest of the haunted house movie. I loved the way that Kubrick had such control over the big sets he used, and how much big production value there was. I think people are getting used to horror subjects done as found footage or B-value budgets. I wanted this to feel like a throwback.
Legendary is evidently eager to make Crimson Peak, in other words, and the director hopes that the company might also be the salvation of his scrapped Universal film At the Mountains of Madness. He says,
They love [Mountains], but we just finished Pacific Rim. They want to let that film happen [it opens July 12] and then my hope is, down the line we can do it. People ask how do i choose projects. All the projects in my roster are there because I love them, but the financing process is serendipity. And often, the ones I think will happen don't, and the ones I think won't happen, do.