Rumor: The Villain Of 'Justice League' Has Been Revealed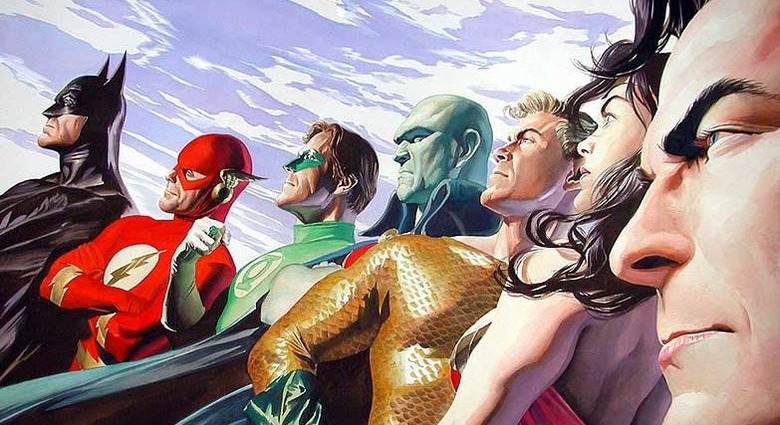 , comic fans began salivating at the actual possibility of a Justice League movie. The idea of teaming DC superheroes had been
Hollywood for years but after Marvel's The Avengers started setting all kinds of box office records, Warner Bros. finally decided to get things in order. Screenwriter Will Beall was revealed to be working
of the DC superhero mega film. Since then,
,
and some
have been the only real updates about Justice League, which
tie into Zack Snyder's Man of Steel.
Either way, the gang over at Latino Review now have what they believe is an actual piece of news about the story of the film. Not the film itself mind you. There's still no green light, director, release date (though
is being eyed) or actors attached (
). This news is about the character that, if the film happens, could be strong enough, important enough and evil enough to force the likes of Batman, Superman, Wonder Woman, Green Lantern, Flash and others to team up against them.
After the jump, read who it is as well as the problems this may create for a potential DC Comics cinematic universe.
According to
, the villain in Justice League will be Darkseid.
One of, if not the, most powerful villain in the DC Universe, Darkseid is an immortal, invulnerable, pretty-much all-powerful God who has been causing trouble for Superman and others for decades. You can read all about the character on
.
If this news if it's true (and, with the Latino Review guys, it usually is) two things strike me as note worthy. First, Warner Bros. is planning on using one of their biggest and baddest villains right from the beginning. Darkseid is the Thanos of the DC Universe, one of the grand daddies of them all, and using him in the first film is like pinch hitting your best home run hitter in the first inning with no one on base. It's a waste. Marvel was smart enough to save Thanos for something like 10 movies in (by the time we really get to see him) and even films like Iron Man and The Incredible Hulk didn't use the character's primary adversary. They milked it. Took their time. If the Justice League fight a God right off the bat, won't any other villains in the canon will feel insignificant?
The second thing is that the DC Cinematic Universe is immediately going cosmic, a big risk considering what's worked in the past. Most of the successful Warner Bros. DC movies have been incredibly grounded (think Christopher Nolan's Dark Knight movies) and Man of Steel, which Nolan produced, is supposed to continue that trend. That's the tried and true formula.
Of course Superman himself is a cosmic character so, simply by virtue of that, Man of Steel has to be more fantastic than The Dark Knight. But Marvel's very successful formula has done its best to push that out of the picture for as long as possible. Even Thor, a cosmic character, spent most of his first movie on Earth and things won't get 100% spacey for them until 2014's Guardians of the Galaxy. The general consensus seems to be that normal audiences – not comic fans – are more likely to embrace something that's grounded before something that's totally unbelievable. (One example is Green Lantern, though the cosmic setting was far from the only problem.)
Do you think Darkseid is a worthy adversary for the Justice League? Is using him so early in a potential cinematic universe a mistake? Can audiences embrace cosmic if it's good? Will Justice League actually happen?