Seth MacFarlane Says A 'Family Guy' Movie Is "Just A Matter Of When"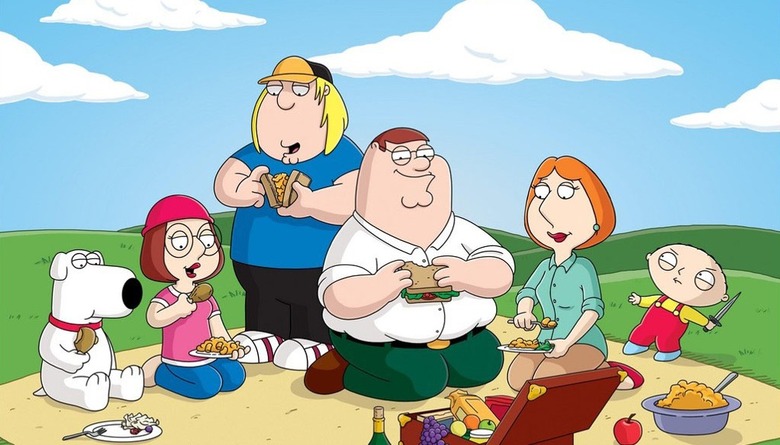 Seth MacFarlane's already conquered the small screen, and now he's got his eye on taking over the big one as well. This summer saw the release of Ted, MacFarlane's first foray into feature directing, and this winter will see him hosting the Oscars. Next up? The long-promised Family Guy movie, perhaps.
MacFarlane revealed his plans during a visit to UCLA, confidently declaring "it's just a matter of when." Oh, good. More after the jump.
MacFarlane told the gathered college kids that he already had a plan in place for the movie:
We do know what the Family Guy movie will be. The Simpsons movie, I thought, was hilarious, but the one criticism I would have is that it's a story they probably could've done on TV. There could've been an episode that had that plotline. That's the challenge with animation. You pretty much can do any story you want, so what is the reason for the movie? We finally hit on the answer to that question, and it will be something that would be impossible to do on TV.
MacFarlane declined to give away any more details about the plot, so it's unclear whether the storyline is "impossible" because it's too epic to be contained on TV, or because it's too rude for FCC broadcast regulations. Either way, it should be good news for fans of his gleefully inappropriate humor.
No specific timeline was given for the new film. Ted's $500M box office puts MacFarlane in prime position to do whatever he wants right now, but his current slate is so packed it may be difficult to carve out the time. Plus, there's the challenge of juggling the show and the movie simultaneously. "It's hard to do that while you have the series going on at the same time," he said. "I think that's why it took The Simpsons 20 seasons to figure out how to do it."