Two Teaser Posters For Pixar's 'Monsters University'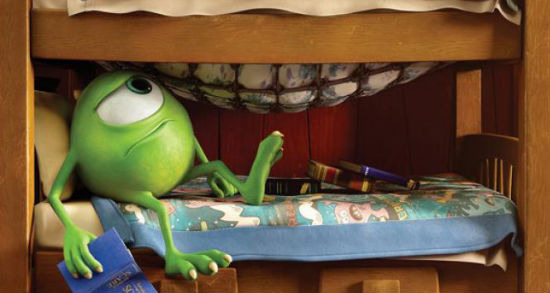 Ask most people to pick their favorite Pixar movie and one that often gets forgotten is Monsters Inc. Pete Docter's Oscar winner came out over a decade ago and the characters haven't resurfaced. So, unlike films such as Toy Story, The Incredibles and Wall-E, it's simply not as fresh in everyone's mind. But audiences love Monsters Inc. and that love is about to start bubbling up again. The original film gets a 3D re-release December 19 and you can be sure it'll include a brand new trailer for 2013's prequel Monsters University.
Two teaser posters for Pixar's next film have now been revealed, marking the start of the print campaign. Directed by Dan Scanlon, Monsters University follows Mike and Sulley when they first met in college, studying to become scarers. It features returning stars Billy Crystal, John Goodman, Steve Buscemi and more. Check out the posters below.
Thanks to Coming Soon for these posters. The domestic is on the left and international is on the right.
I think I like the international poster better. Just had more of a college vibe. What do you think?
And in case you missed it, I saw an exclusive scene from Monsters University last weekend and wrote all about it. The full article is here, but here's the scene breakdown:
Mike and Sulley show up at a very quaint looking frat house with the Greek letters "OK" outside of it, standing for Oozma Kappa. They walk in, meet their new brothers and it's immediately evident these aren't the cool kids. They drink hot cocoa, call their living room "Party Central," keep dream journals, they aren't popular. There's Don Carlton, a "mature student" who heads back to college after being laid off at his job, Terry & Terri, a pair of embarrassing Siamese twins, Squishy, a blobby guy who seems nice but says no one like him and Art, a "new age philosophy major," who looks like a fluffy, flexible letter W. Each introduces themselves to Mike and Sulley and express their individual excitement of finally having new friends. It's also pretty obvious these are not the best people to compete in the Scare Games with. Mike and Sulley, both disappointed at the prospect, are shown to their room – a very small bunk bed situation – when the lights go out.
Exploring what the problem is, they see a light in the basement. They walk down to find a frightening initiation ritual about to commence. Things are going well until the lights flip on. Everyone is disappointed and mad and we realize this frat house isn't just a frat house. I won't spoil the joke.
Monsters University opens June 21. Monsters Inc. 3D opens December 19.