Four New Photos From 'Iron Man 3,' Including The First Look At Rebecca Hall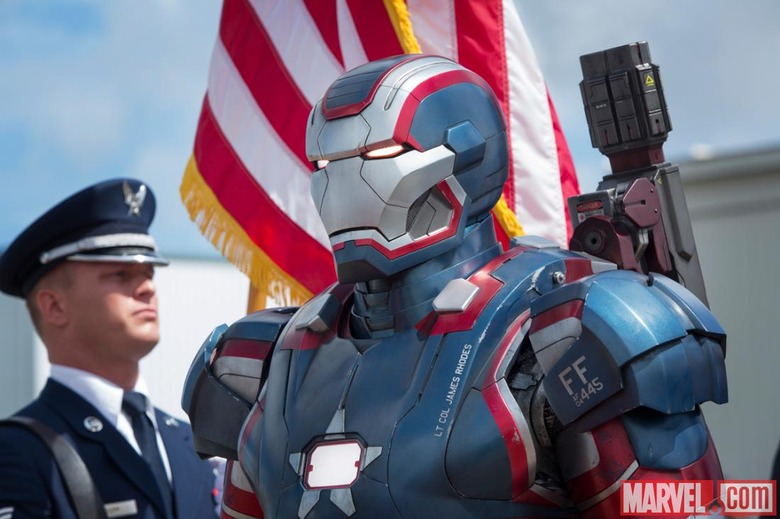 Marvel Studios continues to slowly reveal Shane Black's Iron Man 3. Earlier this week, studio president Kevin Feige talked about the film's tone (it's not serious); mentioned the villain (the Mandarin is unlike anyone Iron Man has faced before); and confirmed none of the other Avengers would appear. That's all fine and well, but let's see some new stuff, right?
Right on cue, four brand-new photos have surfaced, including a new look at the Iron Patriot (with a possible minor spoiler), our first look at Rebecca Hall's character, and a shot of a really messed up mask. Check them out after the jump.
Thanks to Marvel.com for the images.
Hall's character is believed to be a scientist involved in the Extremis project, which is one aspect of this film that hasn't been teased in any of the official videos. (Though an early piece of concept art hinted at it.) Unfortunately, our first look at the character doesn't give us any hints, but it sure doesn't look like she's having a good day.
As for the other images, the shot of Tony Stark was in Superhero Bits earlier this week, but it's very cool to see some of the decals on the Iron Patriot armor. (Including confirmation that it's, indeed, Rhodes in there if you didn't believe it already.) And the broken Iron Man mask was teased in the trailer. Can you glean any more context from this plot description?
Marvel's "Iron Man 3" pits brash-but-brilliant industrialist Tony Stark/Iron Man against an enemy whose reach knows no bounds. When Stark finds his personal world destroyed at his enemy's hands, he embarks on a harrowing quest to find those responsible. This journey, at every turn, will test his mettle. With his back against the wall, Stark is left to survive by his own devices, relying on his ingenuity and instincts to protect those closest to him. As he fights his way back, Stark discovers the answer to the question that has secretly haunted him: does the man make the suit or does the suit make the man?
Starring Robert Downey, Jr., Gwyneth Paltrow, Don Cheadle, Guy Pearce, Rebecca Hall, Stephanie Szostak, James Badge Dale with Jon Favreau and Ben Kingsley, "Iron Man 3" is directed by Shane Black from a screenplay by Drew Pearce and Shane Black and is based on Marvel's iconic super hero Iron Man, who first appeared in the pages of TALES OF SUSPENSE #39 in 1963 and had his solo comic book debut with THE INVINCIBLE IRON MAN #1 in May of 1968.
"Iron Man 3" is presented by Marvel Studios in association with Paramount Pictures and DMG Entertainment. Marvel Studios' President Kevin Feige is producing and Jon Favreau, Louis D'Esposito, Stephen Broussard, Victoria Alonso, Alan Fine, Charles Newirth, Stan Lee and Dan Mintz are executive producers. The film releases May 3, 2013, and is distributed by Walt Disney Studios Motion Pictures.
In addition to "Iron Man 3," Marvel Studios will release a slate of films based on the Marvel characters including "Thor: The Dark World" on November 8, 2013; "Captain America: The Winter Soldier" on April 4, 2014; "Guardians of the Galaxy" on August 1, 2014; the untitled "Marvel's The Avengers" sequel on May 1, 2015; and "Ant-Man" on November 6, 2015.