Gallery: 'A Tribute To Judd Apatow' Art Show Opens In Los Angeles December 4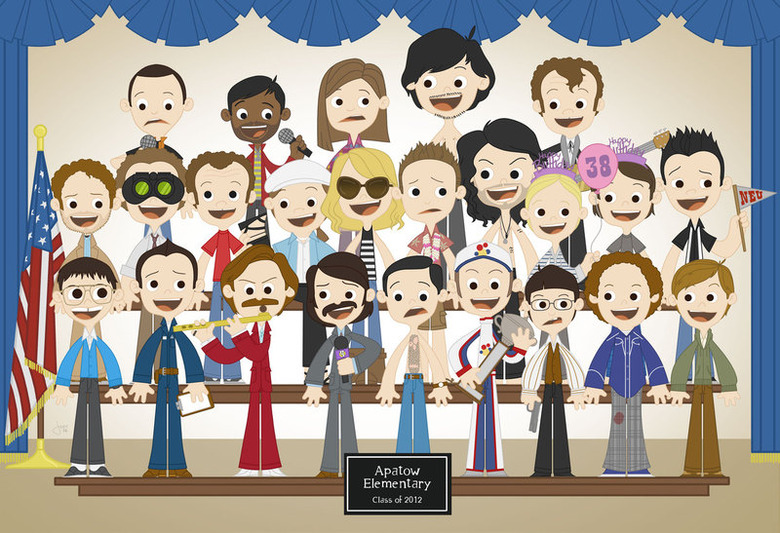 When Judd Apatow's R-rated comedies started making hundreds of millions of dollars, Hollywood took notice and emulated them left and right. But fans knew that the director of The 40-Year-Old Virgin and Knocked Up had been making us laugh long before that. He helmed two of the most underrated network series of all time, Freaks and Geeks and Undeclared; produced films like The Cable Guy and Anchorman; and worked on TV shows such as The Critic and The Larry Sanders Show. This was a comedic genius that deserved all the praise heaped upon him.
In celebration of his latest film, This is 40, Gallery 1988 Melrose in Los Angeles is hosting a Judd Apatow tribute show featuring art based on films he had a hand in. So, in addition to everything mentioned above, there's also art inspired by Superbad, Pineapple Express, Talladega Nights, Walk Hard, and Step Brothers. The show opens Tuesday December 4 and remains on display through December 30.
After the jump, check out a ton of art from the show from artists such as Glen Brogan, Todd Slater, Joshua Budich, Jason Liwag, Jason Edminston, Dave Perillo, Anthony Petrie, Jeff Boyes, Joey Spiotto and others, including some exclusives, and find out how you can attend.
A Tribute to Judd Apatow opens from 7-10 p.m. December 4 and remains on display through December 30 at Gallery 1988, 7020 Melrose Ave., Los Angeles. You must RSVP to attend the opening and some spots are still available. Email gallery1988melrose@gmail.com. For more information, visit gallery1988.com.
Here are just 20 images from the show. The top seven images are exclusives. Mouse over each for the artist name and topic.
Apatow will be on hand for the opening, which should be an amazing time. All of the above art will first be on sale at the opening and leftovers will go on sale at a random time Wednesday, December 5. Follow @Galleries1988 for the reveal.