Sundance Film Festival 2013 Spotlight, New Frontier And Midnight Films Announced Including 'S-VHS,' 'Mud' And James Franco Doing Gay Porn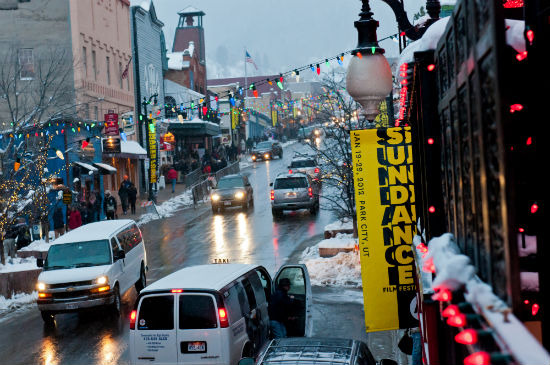 Just under two months away from the kickoff of the 2013 Sundance Film Festival and the second batch of films has been announced. Wednesday's reveal of the competition narrative and documentaries has now been followed by the Spotlight, New Frontier and Park City at Midnight movies, which is where you'll find most of the weird and genre stuff that's playing at the fest from January 17-27.
Among the highlights are, the world premiere of the anthology film S-VHS (the sequel to V/H/S); Jeff Nichols' follow-up to Take Shelter, Mud; Ben Wheatley's follow-up to Kill List, Sightseers; James Franco interpreting gay S&M footage cut from Crusing in Interior. Leather Bar; Sarah Polley's documentary Stories We Tell; and the exorcism comedy Hell Baby starring Rob Corddry, Leslie Bibb, Paul Scheer, Rob Huebel.
Read about all the films after the jump.
Here's the full list from the Sundance website:
SPOTLIGHT - Regardless of where these films have played throughout the world, the Spotlight program is a tribute to the cinema we love.
Fill the Void / Israel (Director and screenwriter: Rama Burshtein) — A devout 18-year-old Israeli is pressured to marry the husband of her late sister. Declaring her independence is not an option in Tel Aviv's ultra-Orthodox Hasidic community, where religious law, tradition and the rabbi's word are absolute. Cast: Hadas Yaron, Yiftach Klein, Irit Sheleg, Chaim Sharir, Razia Israeli, Hila Feldman.
Gangs of Wasseypur / India (Director: Anurag Kashyap, Screenwriters: Anurag Kashyap, Zeishan Quadri) — Exiled and outcast for robbing British trains, Shahid Khan spurs a battle for revenge that passes down generations. Shahid's son vows to get his father's honor back, becoming the most feared man in the Indian town of Wasseypur. Cast: Manoj Bajpai, Nawazuddin Siddique, Richa Chadda, Huma Qureshi, Tigmanshu Dhulia. U.S. Premiere
The Gatekeepers (documentary) / Israel, Germany, Belgium, France (Director: Dror Moreh) — Since its stunning military victory in 1967, Israel has hoped to achieve a long-lasting peace. Forty-five years later, this has yet to happen. Six former heads of Israel's Secret Service reflect on the successes and failures of the "peace process."
Mud / U.S.A. (Director and screenwriter: Jeff Nichols) — Two teenage boys encounter a fugitive and form a pact to help him evade the bounty hunters on his trail and reunite him with his true love. Cast: Matthew McConaughey, Tye Sheridan, Jacob Lofland, Reese Witherspoon. North American Premiere
No / Chile, U.S.A. (Director: Pablo Larraín, Screenwriter: Pedro Peirano) — When Chilean military dictator Augusto Pinochet calls for a referendum to decide his permanence in power, the opposition persuades a young advertising executive to head its campaign. With limited resources and under scrutiny, he conceives a plan to win the election. Cast: Gael García Bernal, Alfredo Castro, Antonia Zegers, Luis Gnecco, Marcial Tagle, Néstor Cantillana.
Sightseers / United Kingdom (Director: Ben Wheatley, Screenwriters: Alice Lowe, Steve Oram) — Chris wants to show girlfriend Tina his world, but when events conspire against the couple, their dream caravan holiday takes a very wrong turn. Cast: Alice Lowe, Steve Oram. U.S. Premiere
Stories We Tell (documentary) / Canada (Director: Sarah Polley) — Sarah Polley is both filmmaker and detective as she investigates the secrets kept by a family of storytellers. She unravels the paradoxes to reveal the essence of family: always complicated, warmly messy and fiercely loving.
PARK CITY AT MIDNIGHT - From horror flicks to comedies to works that defy any genre, these unruly films will keep you edge-seated and wide awake. Each is a world premiere.
Ass Backwards / U.S.A. (Director: Chris Nelson, Screenwriters: June Diane Raphael, Casey Wilson) — Loveable losers Kate and Chloe take a road trip back to their hometown to claim the beauty pageant crown that eluded them as children, only to discover what really counts: friendship. Cast: June Diane Raphael, Casey Wilson, Vincent D'Onofrio, Alicia Silverstone, Jon Cryer, Brian Geraghty.
Hell Baby / U.S.A. (Directors and screenwriters: Robert Ben Garant, Thomas Lennon) — An expectant couple moves into the most haunted fixer-upper in New Orleans – a house with a demonic curse. Things spiral out of control and soon only the Vatican's elite exorcism team can save the pair – or can it? Cast: Rob Corddry, Leslie Bibb, Keegan Michael Key, Riki Lindhome, Paul Scheer, Rob Huebel.
In Fear / United Kingdom (Directed and story by: Jeremy Lovering) — Trapped in a maze of country roads with only their vehicle for protection, Tom and Lucy are terrorized by an unseen tormentor exploiting their worst fears. Eventually they realize they've let the evil in – it's sitting in their car. Cast: Alice Englert, Iain De Caestecker, Allen Leech.
kink (documentary) / U.S.A. (Director: Christina Voros) — A story of sex, submission and big business is told through the eyes of the unlikely pornographers whose 9:00-to-5:00 work days are spent within the confines of the San Francisco Armory building, home to the sprawling porn production facilities of Kink.com.
The Rambler / U.S.A. (Director and screenwriter: Calvin Lee Reeder) — After being released from prison, a man known as "The Rambler" stumbles upon a strange mystery as he attempts the treacherous journey through back roads and small towns en route to reconnecting with his long-lost brother. Cast: Dermot Mulroney, Lindsay Pulsipher, Natasha Lyonne, James Cady, Scott Sharot.
S-VHS / U.S.A., Canada (Directors: Simon Barrett, Adam Wingard, Edúardo Sanchez, Gregg Hale, Timo Tjahjanto, Gareth Huw Evans, Jason Eisener, Screenwriters: Simon Barrett, Jamie Nash, Timo Tjahjanto & Gareth Huw Evans, John Davies) — Searching for a missing student, two private investigators break into his abandoned house and find another collection of mysterious VHS tapes. In viewing the horrific contents of each cassette, they realize there may be terrifying motives behind the student's disappearance. Cast: Adam Wingard, Lawrence Levine, L.C Holt, Kelsy Abbott, Hannah Hughes.
Virtually Heroes / U.S.A. (Director: GJ Echternkamp, Screenwriter: Matt Yamashita) — Two self-aware characters in a Call of Duty-style video game struggle with their screwy, frustrating existence. To find answers, one abandons his partner and mission, seeking to unravel the cheat codes of life. Cast: Robert Baker, Brent Chase, Katie Savoy, Mark Hamill, Ben Messmer.
We Are What We Are / U.S.A. (Director: Jim Mickle, Screenwriters: Nick Damici, Jim Mickle) — A devastating storm washes up clues that lead authorities closer and closer to the cannibalistic Parker family. Cast: Bill Sage, Ambyr Childers, Julia Garner, Michael Parks, Wyatt Russell, Kelly McGillis.
NEW FRONTIER - With media installations, multimedia performances, transmedia experiences, panels, films and more, New Frontier highlights work that celebrates experimentation and the expansion of cinema culture through the convergence of film, art, and new media technology.
Charlie Victor Romeo / U.S.A. (Directors: Robert Berger, Karlyn Michelson, Screenwriters: Robert Berger, Patrick Daniels, Irving Gregory) — An award-winning theatrical documentary derived entirely from 'Black Box' transcripts of six real-life major airline emergencies brought to the screen with cutting-edge stereoscopic 3D technology. Cast: Patrick Daniels, Irving Gregory, Noel Dinneen, Sam Zuckerman, Debbie Troche, Nora Woolley.
Fat Shaker / Iran (Director and screenwriter: M Shirvani) — An obese father and his handsome, deaf son share extraordinary experiences in Tehran. Then a beautiful young woman upsets the balance of their relationship, forcing them to renegotiate their position with each other and the world around them. Cast: Levon Haftvan, Maryam Palizban, Hassan Rostami, Navid Mohammadzadeh.
Interior. Leather Bar. / U.S.A. (Directors: Travis Mathews, James Franco, Screenwriter: Travis Mathews) — To avoid an X rating, it was rumored that 40 minutes of gay S&M footage was cut from the controversial 1980 film, Cruising. Filmmakers James Franco and Travis Mathews re-imagine what was in the lost footage. Cast: Val Lauren, James Franco, Travis Mathews, Christian Patrick, Brenden Gregory.
Halley / Mexico (Director: Sebastian Hofmann, Screenwriters: Sebastian Hofmann, Julio Chavezmontes) — Alberto is dead and can no longer hide it. Before surrendering to his living death, he forms an unusual friendship with Luly, the manager of the 24-hour gym where he works as a night guard. Cast: Alberto Trujillo, Lourdes Trueba, Hugo Albores.
The Meteor / Canada (Director: François Delisle, Screenwriter: François Delisle) — Forty-something Pierre, his mother and his wife are linked by crime, guilt and loneliness. Like casualties of love and desire, they are dying to stick their heads above water and breathe the air of life. Cast: Noémie Godin Vigneau, François Delisle, Laurent Lucas, Brigitte Pogonat, François Papineau, Andrée Lachapelle.