Stephen King's 'Under The Dome' To Air On CBS In 2013 From Producer Steven Spielberg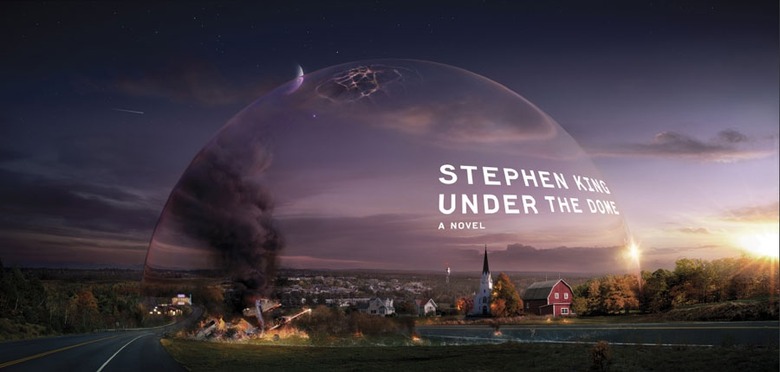 Stephen King's 2009 novel Under the Dome looks like it's finally going to be adapted. The project was originally optioned for Showtime and fan-favorite writer Bryan K. Vaughan was hired to adapt, but after some time the project was put into turnaround. It's now been picked up by CBS and given a 13 episode straight-to-series order for the Summer of 2013. Steven Spielberg's Amblin Entertainment is still attached to produce and Neal Baer (ER) has signed on as the showrunner. Niels Arden Oplev, the director of the original Girl With The Dragon Tattoo, will helm the first episode. Read more after the jump.Deadline broke the news of this deal. Here's the descrption of the novel:
On an entirely normal, beautiful fall day in Chester's Mill, Maine, the town is inexplicably and suddenly sealed off from the rest of the world by an invisible force field. Planes crash into it and fall from the sky in flaming wreckage, a gardener's hand is severed as "the dome" comes down on it, people running errands in the neighboring town are divided from their families, and cars explode on impact. No one can fathom what this barrier is, where it came from, and when — or if — it will go away. Dale Barbara, Iraq vet and now a short-order cook, finds himself teamed with a few intrepid citizens — town newspaper owner Julia Shumway, a physician's assistant at the hospital, a select-woman, and three brave kids. Against them stands Big Jim Rennie, a politician who will stop at nothing — even murder — to hold the reins of power, and his son, who is keeping a horrible secret in a dark pantry. But their main adversary is the Dome itself. Because time isn't just short. It's running out.
According to the Deadline story, Vaughan's adaptaion "kept the general conceit and many of the characters from the book but also introduced some new characters as regulars and tweaked some details and backstory for the existing ones." King has reportedly signed off on the changes and the ending of these 13 episodes will depend on whether or not a second season is greenlit or not.
In addition, Simon and Schuster will release new paperback and electronic editions of the book in April and after each episode airs, it'll be available in various other mediums. This is a huge, summer blockbuster type event – just on television.
Do you feel CBS is the right place to air King's thriller?