Listen To All The Classic Soundtrack Tunes In 'Django Unchained' [Updated]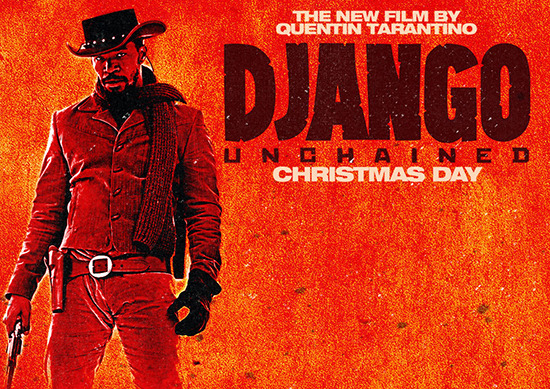 One of the pleasures of a Quentin Tarantino film is the collection of music he assembles to add context and atmosphere to the action. In the past, the director has rarely used anything other than classic tracks, most from the '60s and '70s, to soundtrack his films.
Django Unchained is a bit different, because he has accepted a few new tracks, from performers like John Legend and Rick Ross, and one from legendary film composer Ennio Morricone. But there are quite a few tracks in the film sourced from other films. With the release of the film's full sountrack list today we know just what the picks are, and it doesn't take a lot of combing to assemble a playlist.
So, below, listen to all the classic tracks in Django Unchained, which come from films such as Django (shocker!), Two Mules For Sister Sara, and Day of Anger. We've cut out the track titles that seem to refer to dialogue samples, and so there are no potential spoilers below. The retail version arrives on December 18.
One interesting bit of background info is from the press release, where Tarantino says,
I want to thank all the artists who contributed original songs (a first for me) to the picture. Most of these contributions came out of the artists' own inspiration and their illustration of the film's soul is invaluable. In addition to the new original songs I am also using a lot of older recordings on the soundtrack – many of which came from my personal vinyl collection. Instead of having the record companies give me new digitally cleaned up versions of these recordings from the 60's and 70's, I wanted to use the vinyl I've been listening to for years – complete with all the pops and cracks. I even kept the sound of the needle being put down on the record. Basically because I wanted people's experience to be the same as mine when they hear this soundtrack for the first time.
So, although these versions won't have the noise from Tarantino's personal vinyl editions, here are those tracks sourced from other films.
DJANGO (MAIN THEME) – LUIS BACALOV, ROCKY ROBERTS
(from Django, 1966)
THE BRAYING MULE – ENNIO MORRICONE
(from Two Mules For Sister Sara, 1970)
LO CHIAMAVANO KING (HIS NAME IS KING) – LUIS BACALOV, EDDA DELL'ORSO
(from His Name Was King, 1971)
FREEDOM – ANTHONY HAMILTON & ELAYNA BOYNTON
This is the first original track on the soundtrack, and so it's the first one I can't embed. But here's Hamilton's hit 'Charlene,' which will give you an idea of his style in the event you don't know his stuff.
LA CORSA (2ND VERSION) – LUIS BACALOV
(from Django, 1966)
I GOT A NAME – JIM CROCE
(from the 1973 album of the same name)
I GIORNI DELL'IRA – RIZ ORTOLANI
(from Day of Anger, 1967)
100 BLACK COFFINS – RICK ROSS
Here's another original track. In this case, we can look to this interview with Jamie Foxx for info about what the song is, and how it came to be. The track is previewed in the most recent trailer for the film, too.
I ran into Rick Ross...and I know that John Legend had sent a track to Quentin Tarantino that's amazing, and he sent it to Quentin on a cassette tape because he knows Quentin doesn't like technology. Then, I ran into Rick Ross. I said, 'Rick, you should come by the set because I know Quentin doesn't do original stuff, but it wouldn't hurt for you to come and just feel it because Django is hip hop. This is a different thing.' So Rick Ross shows up, huge fan of Quentin and I said, 'Rick, if you're going to write a song, I think you should say these words: I need 100 black coffins for 100 bad men, dig 100 black graves so I can lay they ass in. 100 black coffins.' So that would be my contribution. Now what he does with it, I don't know. But if he does what I think, it's going be it'll be great."
Update: here's a stream of the track:
NICARAGUA – JERRY GOLDSMITH FEATURING PAT METHENY
(from Under Fire, 1983)
SISTER SARA'S THEME – ENNIO MORRICONE
(from Two Mules For Sister Sara, 1970)
ANCORA QUI – ENNIO MORRICONE AND ELISA
This is another new track — kind of a big deal that, after years of using and being inspired by his music, Tarantino got Ennio Morricone to do something new for the film.
UNCHAINED (THE PAYBACK/UNTOUCHABLE) – JAMES BROWN AND 2PAC
WHO DID THAT TO YOU? – JOHN LEGEND
This is the final new track on the disc, so we'll have to wait a bit longer to hear it.
TOO OLD TO DIE YOUNG – BROTHER DEGE
UN MONUMENTO – ENNIO MORRICONE
(from I Crudeli, aka The Hellbenders, 1967)
TRINITY (TITOLI) – ANNIBALE E I CANTORI MODERNI
(from Lo Chiamavano Trinità, aka They Call Me Trinity, 1971)