Action-Packed Final 'Django Unchained' Trailer Released; Plus Full Soundtrack Listing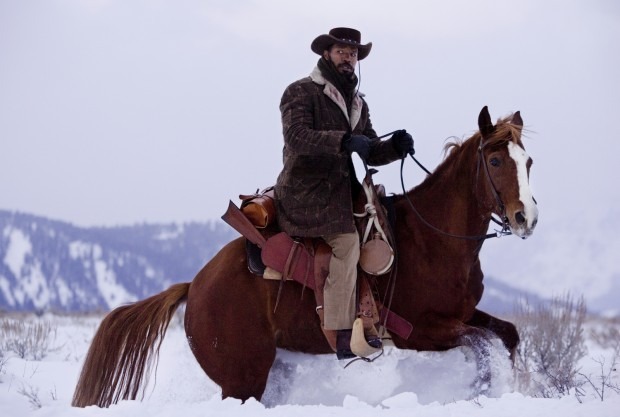 So many of us love Quentin Tarantino movies. So many of us love the actors he casts in his movies. But even if you lump all those people together, you probably don't have enough to make for a hit movie. The final trailer for Django Unchained highlights the talents of its writer/director as well as the impressive cast. But more than that, it focuses on something everyone likes: non-stop action.
Django Unchained opens on Christmas Day, starring Jamie Foxx, Christoph Waltz, Leonardo DiCaprio, Kerry Washington, Samuel L. Jackson, Don Johnson and Jonah Hill. After the jump, check out the final trailer for the film complete with more bullets, whipping, punching and fighting than every Django trailer that's preceeded it. Plus, read the full soundtrack listing.
Thanks to Yahoo Movies for this badass trailer.
What's that song in the middle of the trailer do you ask? Well it's "100 Black Coffins" by Rick Ross, just one of the new songs on the Django Unchained soundtrack. The full track list is below. It's out December 18 and super eclectic, as one might expect.
Be warned. There aren't major spoilers here, but some of the tracks obviously refer to scenes in the film
1. WINGED
2. DJANGO (MAIN THEME) – LUIS BACALOV, ROCKY ROBERTS
3. THE BRAYING MULE – ENNIO MORRICONE
4. IN THAT CASE, DJANGO, AFTER YOU...
5. LO CHIAMAVANO KING (HIS NAME IS KING) – LUIS BACALOV, EDDA DELL'ORSO
6. FREEDOM – ANTHONY HAMILTON & ELAYNA BOYNTON
7. FIVE-THOUSAND-DOLLAR NIGGA'S AND GUMMY MOUTH BITCHES
8. LA CORSA (2ND VERSION) – LUIS BACALOV
9. SNEAKY SCHULTZ AND THE DEMISE OF SHARP
10. I GOT A NAME – JIM CROCE
11. I GIORNI DELL'IRA – RIZ ORTOLANI
12. 100 BLACK COFFINS – RICK ROSS
13. NICARAGUA – JERRY GOLDSMITH FEATURING PAT METHENY
14. HILDI'S HOT BOX
15. SISTER SARA'S THEME – ENNIO MORRICONE
16. ANCORA QUI – ENNIO MORRICONE AND ELISA
17. UNCHAINED (THE PAYBACK/UNTOUCHABLE) – JAMES BROWN AND 2PAC
18. WHO DID THAT TO YOU? – JOHN LEGEND
19. TOO OLD TO DIE YOUNG – BROTHER DEGE
20. STEPHEN THE POKER PLAYER
21. UN MONUMENTO – ENNIO MORRICONE
22. SIX SHOTS TWO GUNS
23. TRINITY (TITOLI) – ANNIBALE E I CANTORI MODERNI
Here's Tarantino's quote from the press release:
I want to thank all the artists who contributed original songs (a first for me) to the picture. Most of these contributions came out of the artists' own inspiration and their illustration of the film's soul is invaluable. In addition to the new original songs I am also using a lot of older recordings on the soundtrack – many of which came from my personal vinyl collection. Instead of having the record companies give me new digitally cleaned up versions of these recordings from the 60's and 70's, I wanted to use the vinyl I've been listening to for years – complete with all the pops and cracks. I even kept the sound of the needle being put down on the record. Basically because I wanted people's experience to be the same as mine when they hear this soundtrack for the first time.
What do you think of the new trailer? Will you pick up the soundtrack?