Sequel Bits: Steven Spielberg Once Got Rejected For James Bond, Plus: 'Riddick', 'S-VHS', 'Lost Boys 4'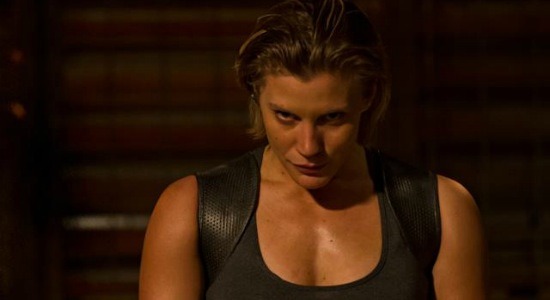 Let's run through a few sequel-related odds and ends. After the jump:
Katee Sackhoff explains why Riddick got an R rating
Steven Spielberg reveals that he once offered to do Bond
Get your first peek at the horror anthology S-VHS
Corey Feldman confirms that Lost Boys, as a series, is dead
There's a shitload of blood and there's little pieces of nudity, here and there. There's my nudity too, but it's side boob, for three to five seconds. It's not that big of a deal. It's mostly for the language. My character and Matt Nable's character say f*ck, like every other word. It's kind of fantastic, actually. He must have said f*ck 15 times, in every single scene. It's pretty awesome. So, it's mostly for language.
Head to Collider for the rest of the interview, in which she discusses her character, how she landed the Riddick role, and more.
Sam Mendes' excellent work on Skyfall has Bond aficionados wondering what other high-profile directors the franchise might draw in next. But don't count on Steven Spielberg being among them. The legendary filmmaker revealed in a conversation with The Daily Mail that he was turned down for a Bond directing job back in the late '70s, and has no intention of going for it again.
"I went to Cubby Broccoli and I asked if I could do one and he said 'No,'" Spielberg said. "I've never asked again. Instead, I made the Indiana Jones series." Still, he remains a fan of the series, particularly Mendes' latest installment. "I've seen it once and I'll see it a second time," he said. [via The Playlist]
The producers behind the horror anthology V/H/S are back for S-VHS, involving directors Eduardo Sanchez (The Blair Witch Project), Jason Eisener (Hobo With a Shotgun), Adam Wingard (You're Next), and more. While we don't know too many details about the project just yet, a bloody first image from the segment co-directed by Gareth Evans (The Raid) and Timo Tjahjanto (Macabre) suggests creepy good times ahead.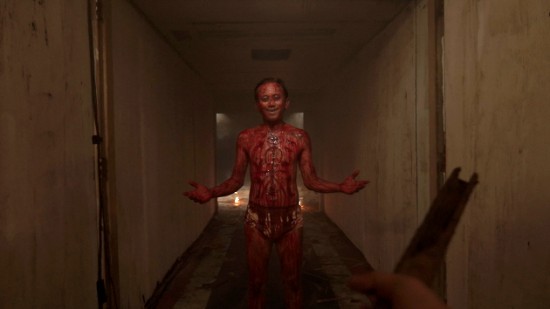 No release date has been announced for S-VHS. [Twitch]
It took two decades for 1987's The Lost Boys to get a sequel, in the form of 2008's direct-to-DVD Lost Boys: The Tribe. But that film did well enough to warrant its own sequel, 2010's Lost Boys: The Thirst, and the series appeared to be on track for a fourth entry. Then Warner Premiere shut down, taking with it the possibility of a Lost Boys 4. Star Corey Feldman explained the situation to MovieWeb:
I am not sure if you are aware, but Warner Premiere has folded. The company that was assigned to make the films in The Lost Boys franchise are no longer in business. Therefore, that leaves The Lost Boys without a home. The Frog Brothers are homeless at the moment.
I would like to see the franchise stay alive. There is not a day that passes, that a fan doesn't write to me and say, "What about the next The Lost Boys? Where is Lost Boys 4? What about another Frog Brothers movie? Frog Brothers TV show? Frog Brothers cartoon?
People love it. People want to see more of it. Jamison Newlander and I are always down to get back into bed. But that being said, it's Warner Bros. that drives that boat. It is a Warner Bros. film, it's a Warner Bros. franchise. Without Warner Bros. behind it, there are no more Frog Brothers. The Bros. Warner need to get back into bed with The Bros. Frog. Then we can all have a great big movie orgy. Until then, we are all left as homeless Frogs.
Honestly, I wouldn't be surprised if Warner Bros. eventually decided to revive / reboot / remake the series — but for now, Lost Boys fans, don't hold your breath. [via Bloody Disgusting]