Character Posters And Brief Footage Show Off The Quirky Side Of Roman Coppola's 'A Glimpse Inside The Mind Of Charles Swan III'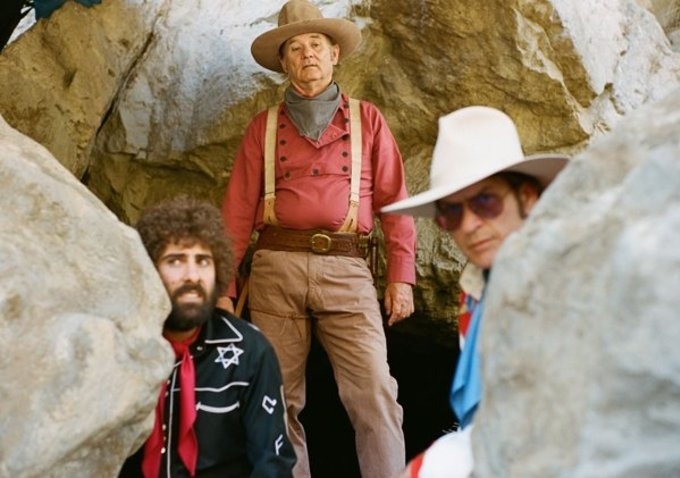 So far, unless you've been at the Rome Film Festival, your only exposure to Roman Coppola's second feature film A Glimpse Inside the Mind of Charles Swan III has been through a handful of stills. A glimpse, indeed. The film is Coppola's long-awaited follow-up to CQ, which Coppola released over a decade ago, and also comes on the heels of feature work he's done with other directors. (Second unit work on a variety of features, and writing duties on The Darjeeling Limited and Moonrise Kingdom, for example.)
The movie stars Charlie Sheen as a successful graphic designer whose girlfriend unceremoniously dumps him, sending the guy into something of a tailspin. Actors such as Jason Schwartzman, Bill Murray, and Patricia Arquette show up, and as the still above suggests, the movie isn't the most serious and literal story hitting screens.
And things are breaking open now with respect to getting a better look at the movie. First, we've got a full suite of character posters that go right past your typical character sheets to present an iconic if slightly bawdy take on the material. And then there's a video which, while full of some irritating entertainment television talking head noise, also features the first footage we've seen from the film.
Here's a gallery of posters, from a The Film Stage, Rolling Stone, Moviefone, MovieTickets, Rotten Tomatoes, and Movies.com.
And then there's a video report out of Europe, which does two things. First, it provides us with the first footage of the film to escape the festival circuit. Second, and perhaps more important, it essentially compares the style of both Roman Coppola and his star Sheen, when Sheen is in character as Swan. They're quite similar in some ways, which might be an interesting point. (Though some could also say that Jason Schwartzman's douchey director in CQ bore a passing resemblance to Coppola in sartorial quirk, as well.)
A Glimpse Inside the Mind of Charles Swan III opens on February 8, 2013.
Charles Swan III (Charlie Sheen) has it all. He's an eccentric and highly successful graphic designer whose fame, money
 and devilish charm have provided him with a seemingly perfect life. But when his true love, a perplexing beauty named Ivana, suddenly ends their relationship, Charles is left heartbroken. With the support of his loyal intimates– Kirby (Jason Schwartzman), Saul (Bill Murray), and his sister, Izzy (Patricia Arquette) – he begins a delirious journey of self-reflection to try and come to terms with a life without Ivana. "A Glimpse Inside the Mind of Charles Swan III" is a unique relationship film told in a playful and unconventional style.