Cool Stuff: Limited Edition $1000 'Harry Potter: From Page To Screen' Box Set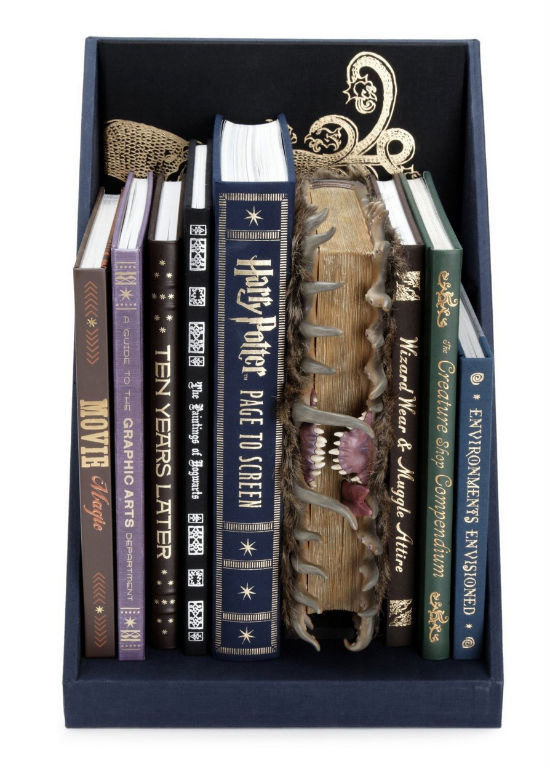 We may receive a commission on purchases made from links.
This Cyber Monday, one of the best deals out there is still incredibly expensive. A brand new, limited edition Harry Potter box set called From Page to Screen: The Complete Filmmaking Journey, will be released next week at the retail cost of $1000. However, it's currently on sale for 40% off which means it's only... $600.
What do you get for that huge chunk of change? Seven never-before-published books chronicling the creation of the eight Harry Potter films, a limited edition version of an eighth book, all bound in a gorgeous package. Only 3000 will ever be made so check out some images and a trailer after the jump.
Thanks to Entertainment Weekly for the heads up on this gorgeous, but slightly overpriced set. Here's a little video tease.
And here are a few close ups from the Amazon page, where you can preorder for $600.
Finally here's their description the series including a full rundown of the books.
Worthy of a vault at Gringotts, this amazing limited edition collection includes eight exquisitely crafted volumes shelved with a scale prop replica of The Monster Book of Monsters and a gilded, oversized portfolio with five frame-able prints of concept art. Featuring never-before-published art and text chronicling the making of the Harry Potter films, the set is limited to just 3,000 copies worldwide.
Seven of the volumes were created expressly for this collection and delve into different aspects of the filmmaking, showing how the team designed locations, graphics, costumes, creatures, and special effects. A book of the paintings of Hogwarts showcases the exquisite artistry of each. A keepsake book filled with snapshots and personal photos looks at the lasting relationships between cast and crew. The eighth volume is a cloth-bound edition of the New York Times Best-seller, Harry Potter: Page to Screen. All of these precious objects are housed in a collectible box that looks like it came from Diagon Alley. Arriving at your doorstep with a numbered certificate of authenticity, this limited edition is the ultimate collectible for any wizard or Muggle.
This collector's edition includes:
A cloth-covered case, styled to look like a shelf from a shop in Diagon Alley
A cloth-bound edition of Harry Potter: Page to Screen
Seven additional volumes detailing the Harry Potter creative team's ten years of extensive efforts:
The Creature Shop Compendium: Flora and Fauna from the Harry Potter Films
Environments Envisioned: Building Fantastic Sets and Scouting Dramatic Locations
A Guide to the Graphic Arts Department: Posters, Prints, and Publications from the Harry Potter Films
Movie Magic: Practical Props and Exciting Effects
The Paintings of Hogwarts: Masterpieces from the School of Witchcraft and Wizardry Sets
Ten Years Later: Life on Set with the Harry Potter Cast and Crew
Wizard Wear and Muggle Attire: Costuming the World of Harry Potter
A replica of The Monster Book of Monsters film prop
A gilded portfolio of five frame-able prints of original Harry Potter concept art
A gorgeous set to be sure, but will you purchase it? Shouldn't it come with Blu-rays of the movies at least?