'Monsters University' Invades University Of Southern California With Brand New Footage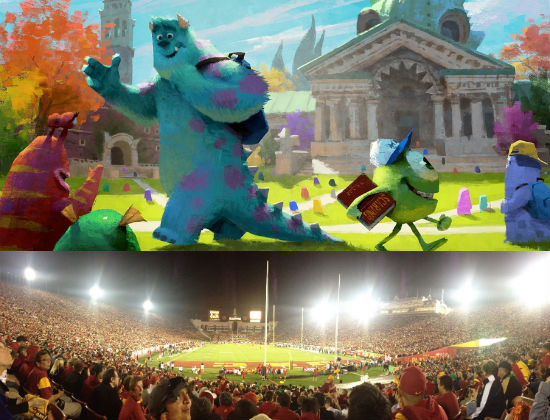 Disney and Pixar's choices of venue to showcase the first footage from their June release, Monsters University, was incredibly telling. They chose the University of Southern California on Saturday November 24, which just so happened to be the day of the school's biggest football game of the year, against the #1 team in the country, the University of Notre Dame. Every inch of the campus was crawling with tailgaters: older fans and alumni, drunk students, a marching band and more. It was an eclectic cross section of what we perceive through the words "the college experience."
Inside the theater, the footage showcased the Pixar version of that experience. In Monsters University, a prequel to 2001's Monsters Inc., Mike and Sulley's long-standing friendship gets off to a rocky start as rivals at the title university. But when they're forced to team up and join a brand new frat, their new friends are just like those USC fans: some older, some younger, and all pretty crazy.
After the jump, read a bit about brand new Monsters University footage as well as a key scene from Monsters Inc., which gets re-released in 3D on December 19.
Let's start with the new footage, which felt about 70% complete visually.
The set up, according to Production Designer Ricky Nierva, is Mike and Sulley are at college both trying to become scarers. They quickly become rivals, which gets them kicked out of the program and the only way back in is to join a frat and compete in The Scare Games. And so begins the clip.
Mike and Sulley show up at a very quaint looking frat house with the Greek letters "OK" outside of it, standing for Oozma Kappa. They walk in, meet their new brothers and it's immediately evident these aren't the cool kids. They drink hot cocoa, call their living room "Party Central," keep dream journals, they aren't popular. There's Don Carlton, a "mature student" who heads back to college after being laid off at his job, Terry & Terri, a pair of embarrassing Siamese twins, Squishy, a blobby guy who seems nice but says no one like him and Art, a "new age philosophy major," who looks like a fluffy, flexible letter W. Each introduces themselves to Mike and Sulley and express their individual excitement of finally having new friends. It's also pretty obvious these are not the best people to compete in the Scare Games with. Mike and Sulley, both disappointed at the prospect, are shown to their room – a very small bunk bed situation – when the lights go out.
Exploring what the problem is, they see a light in the basement. They walk down to find a frightening initiation ritual about to commence. Things are going well until the lights flip on. Everyone is disappointed and mad and we realize this frat house isn't just a frat house. I won't spoil the joke.
The clip had lots of humor, heart and character, setting up what seems to be an entertaining narrative in the underdog vein of Revenge of the Nerds.
Before we saw the clip from Monsters University, we also saw the final action scene of Monsters Inc. – the one in the door factory – in 3D. The 3D element added an even bigger feel to the already big scene but didn't pop out or interact with the audience. It was all about depth and at certain points, the characters feel so small in the frame, the action gets even more intense. With a visual representation of the dire consequences, the scene feels different and more impressive. It was a great display of the technology.
Finally, we walked all the way across the USC campus, through thousands upon thousands of drunk college students partying and screaming, into our tailgate party, ate and drank like crazy, then saw #1 Notre Dame beat USC. Not the best day for those USC fans but for the small amount of people cheering for Monsters University, it was pretty spectacular. It opens on June 21.