Chevy Chase Finally Leaving 'Community'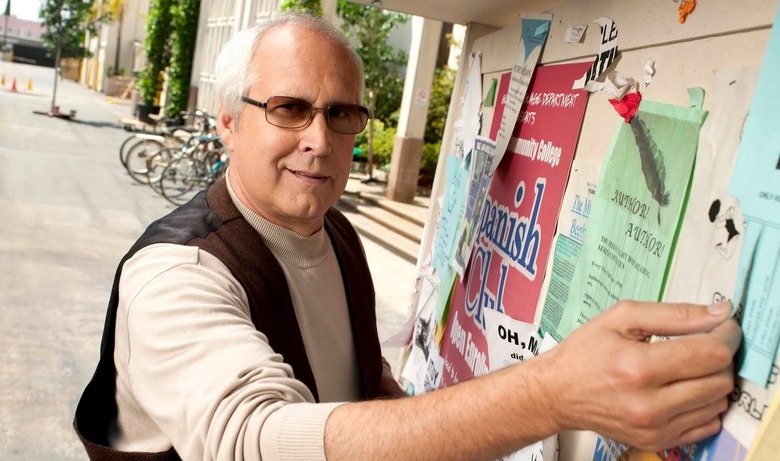 Chevy Chase has made no secret of his dissatisfaction with Community, both in the pre- and post-Dan Harmon eras, so his departure always seemed more like a question of "when" than "if." And now, that time has finally come. Effective immediately, Chase is no longer part of the NBC cult comedy, and will not appear in the few Season 4 episodes that remain to be shot. More details after the jump.
If anything, it's just surprising Chase has stuck around as long as he has. The comedian has a long history of being difficult, to put it politely, and his blow-ups on the Community set are well documented. Among them are his well-publicized feud with Harmon, and his recent use of a racial slur during a dispute about the script. Shortly before Season 3 wrapped, Chase told press "I probably won't be around that much longer, frankly."
Chase's departure comes toward the end of shooting on Season 4. All but one or two of the episodes have already been shot, and will therefore feature Chase. Since we don't know yet how prominently Pierce features in Season 4, it's tough to gauge how much his absence will impact the series. However, his character Pierce has never been considered a fan favorite and was often treated as a supporting role in storylines featuring more popular cast members. In other words: It's impossible to imagine Greendale without Jeff or Troy or Abed. It's much easier to picture it without Pierce.
Moreover, Community's slim chances at a Season 5 renewal means fans may barely even notice Chase skipping out on an episode or two. While NBC has yet to announce a decision about the 2013-2014 season, the signs aren't good. Community's fourth season premiere was already pushed back from fall to midseason, and the order was only for 13 episodes instead of the usual 22. On the plus side, at least it's getting its old Thursday 8:00 PM spot back on February 7, instead of running in the Friday timeslot of death as originally planned.