Star Wars Bits: Flash Back To Lawrence Kasdan Discussing 'Jedi,' Plus Kevin Smith, Jon Favreau, Ed Burns, Peter Serafinowicz, Chris Hemsworth, And 3D Re-Release Dates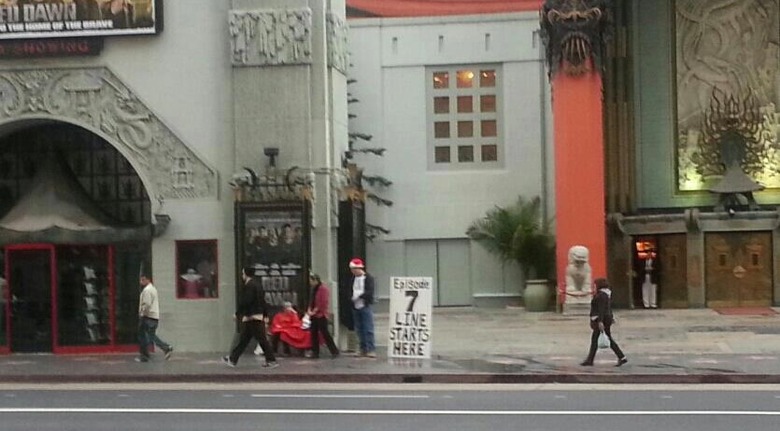 All right, so the sign shown above (via Collider) is just a joke, but the off-the-charts anticipation for Episode VII is very, very real. After the jump:
Jon Favreau has Kevin Smith's vote for the Star Wars VII directing job
Ed Burns is ambivalent on the admittedly slim possibility of getting an offer
Peter Serafinowicz and Chris Hemsworth would like to be in Star Wars
Watch Lawrence Kasdan talking about Return of the Jedi, way back when
Fox announces dates for the 3D re-releases of Episode II and Episode III
I watched IRON MAN again. Such a perfect movie. Disney should give @Jon_Favreau STAR WARS VII: Dude knows how to make a great family flick.

— KevinSmith (@ThatKevinSmith) November 13, 2012
Jon Favreau's last couple of efforts, Iron Man 2 and Cowboys & Aliens, have been duds, but we're agreed with Smith that the first Iron Man was a pretty kickass movie. Do you agree with Smith's pick?
One director who's probably nowhere near the shortlist is Ed Burns, as Burns himself readily acknowledges. However, when asked by an interviewer whether he'd take the job if given the opportunity, he admitted that he probably would — for money reasons, mostly.
"If they asked me, I guess I would have to do it," he said. "Well, it'd be very hard to say no. I'm not thinking creatively. I'm thinking financially." Burns continued, "I loved Star Wars as a kid, but that's not my thing."
In general, though, he's in favor of the new movies:
I think it's a great idea. Look at Skyfall. It's probably the best James Bond sequel ever, and certainly the most financially successful. We only got to that by suffering through sequels that weren't as strong. It takes time, but sometimes the wait is worth it. In this age, when everything is re-branded, when you've got a property as valuable as Star Wars, why not take a gamble? What's the worst thing that can happen? You make a lousy movie that makes a billion dollars.
Head to Esquire to read the rest of the interview.
Of course, filmmakers aren't the only ones getting posed the Star Wars question. Peter Serafinowicz, who voiced Darth Maul in Episode I – The Phantom Menace, is excited to see the series moving forward, and wouldn't mind getting a job on the new film.
"I feel like it's a really good thing for a Star Wars fan. I think it's super-exciting," he said. Despite his involvement in Episode I, Serafinowicz didn't care for the movie any more than the general audience did. "[The prequels] were hugely disappointing. Especially as the trailer is still one of the best trailers ever made. You can see it now, and the trailer is so good it does con you into thinking, 'Oh maybe I should watch The Phantom Menace again!"
But he's hopeful about the new film. "I'd love to be involved in some way with it. It's my favorite film, Star Wars, the first one. That's my favorite film ever," he said. Read more of his comments at Digital Spy.
Chris Hemsworth is one of the most in-demand young stars working today, but all the same the Aussie actor says he'd make room for Star Wars VII if Lucasfilm came calling. "Oh man, I love those films," he said. "That's the sort of bread and butter of my film experience as a kid. I would love to work on something like that."
Between Thor and Snow White and the Huntsman, Hemsworth doesn't really need another high-profile franchise to boost his profile. Still, can you blame him for wanting to add Star Wars to that list? [MTV]
The next Star Wars trilogy will no doubt feature a ton of fresh talents, but one old-timer is coming back as well. Episode V and Episode VI writer Lawrence Kasdan is reportedly working on Episodes VIII and IX with Simon Kinberg. With George Lucas gone, though, we're guessing it'll be quite a different experience for him this time around.
In this TV interview from the long-ago days of VHS, Kasdan discusses Return of the Jedi days before its release. Watch it below:
[via Collider]
Finally, while we wait for Star Wars Episode VII to open in 2015, Fox would like to suggest that we entertain ourselves by revisiting some of the older movies. Just in case you didn't read about the scrapping of Independence Day 3D, where we mentioned this info, the studio has just announced 2013 dates for the 3D re-releases of Episode II – Attack of the Clones and Episode III – Revenge of the Sith, to follow up the 3D re-release of Episode I – The Phantom Menace earlier this year.
Episode II is slated to open September 20, 2013, with Episode III opening just a few weeks later on October 4, 2013. Fox has been planning to put the movies back in theaters since before Disney announced the Lucasfilm deal. But with interest in the series at an all-time high, it doesn't seem like a stretch to wonder whether this means Episodes IV through VI might be getting similar treatment in 2014. [Box Office Mojo]