'I Give It A Year' Trailer: Rose Byrne Finally Leads Her Own Comedy, For 'Brüno' Writer Dan Mazer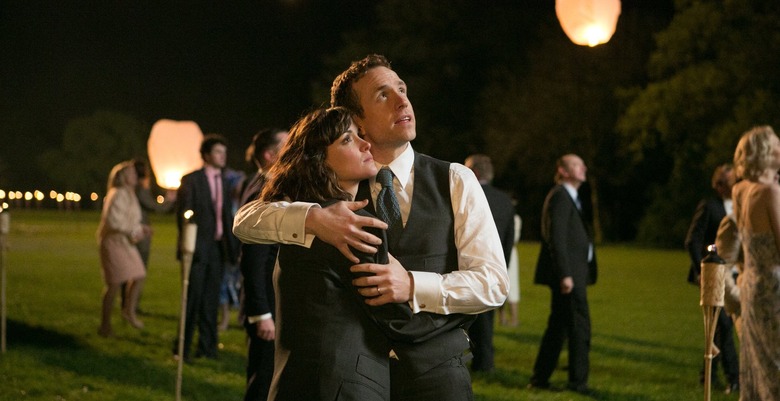 One bit of advice that commonly gets doled out at weddings is the warning / reassurance that the first year of marriage is the toughest, since the couple are still adjusting to being shackled together for all eternity. That certainly seems to be the case in I Give It a Year, directed by Brüno scribe Dan Mazer.
After a beautiful ceremony, newlyweds Nat (Rose Byrne) and Josh (Rafe Spall) come home to realize that something's not quite clicking in their relationship. To complicate matters, a couple of very appealing outs present themselves in the form of Josh's "too perfect" ex (Anna Faris) and Nat's dashing new client (Simon Baker). Stephen Merchant, Minnie Driver, and Jason Flemyng also star. Watch the trailer after the jump.
To be fair, when your marriage starts with Merchant confidently and accidentally saying "fornication" in front of all your friends and family, there's nowhere to go but down. Mazer's work on Da Ali G Show, Borat, and Brüno suggests I Give It a Year will include plenty more of that awkward, inappropriate humor.
Romcoms not produced by Judd Apatow tend to get a bad rap, but this one looks more promising than most. There are some very funny bits here — I especially enjoyed the gag involving the doves — while the bittersweet premise adds some genuine emotion. It's also great to see Byrne finally leading a comedy of her very own, after she more than proved her chops with hilarious turns in Bridesmaids and Get Him to the Greek.
I Give It a Year opens February 8 in the UK. No US release date has been announced.
Since they met at a party, ambitious high-flyer Nat (Rose Byrne) and struggling novelist Josh (Rafe Spall) have been deliriously happy despite their differences. Josh is a thinker, Nat's a doer, he's lasses faire and she's quite anal... but the spark between them is undeniable.
Their wedding is a dream come true, but family, friends and even the minister who marries them aren't convinced that they can last. Josh's ex-girlfriend, Chloe (Anna Faris), and Nat's handsome American client Guy (Simon Baker), could offer attractive alternatives...
With their first anniversary approaching, neither wants to be the first to give up, but will they make it?