'Mobius' Teaser Trailer: 'The Artist' Star Jean Dujardin Returns In A Modern Thriller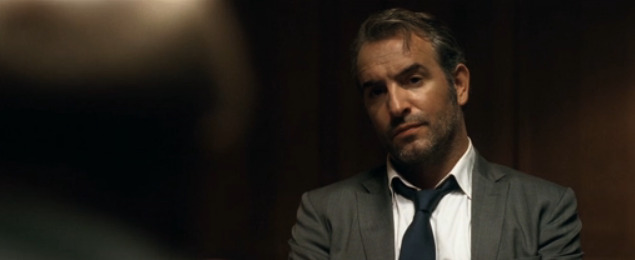 At the end of 2011 Jean Dujardin became a bigger global star than he may have ever expected to be, thanks to the success of the film The Artist. The actor took home one of the film's five Oscars, and also found awards success and popular acclaim in many other countries.
Soon he'll be back on screens in a very different film: writer/director Eric Rochant's Möbius, a thriller that blends post-Cold War spies and high-stakes criminal activity. A teaser trailer is online, and it works hard to build an air of tightly-wound tension. Check out the footage below.
Before going into this one, here's a description:
Moïse, the leader of an elite FSB (ex-KGB) unit, is in London on the trail of a powerful oligarch suspected of money laundering. His team bullies Alice, a smart young trader operating way over her limit, into working for Moïse.
Alice soon realizes the potential for profit in playing both sides so everybody wins, but Moïse becomes convinced she will blow her cover and put her life in danger. He decides to do what no spymaster should ever do – make direct contact with his agent. An innocent first meeting soon develops into a passionate affair that will change their lives forever, just not in the way they expected.
Möbius also features Cécile De France, Tim Roth and Émilie Dequenne. It opens in France on February 27, 2013, a year and a day after Dujardin won the Best Actor Oscar for his work in The Artist.