Author Tim Ferriss Lists His Favorite Cooking TV Shows And Movies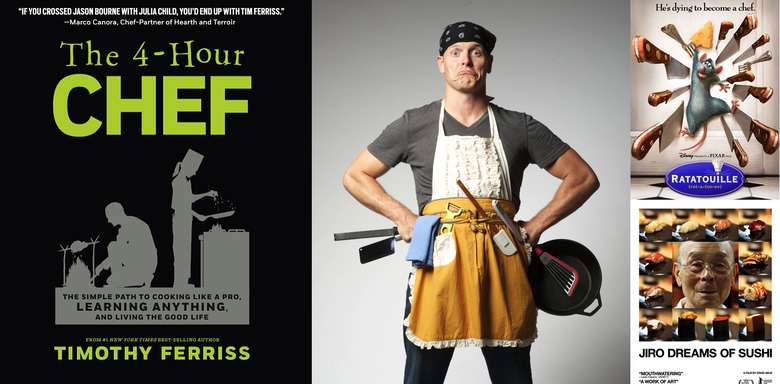 We may receive a commission on purchases made from links.
I'll read anything by Tim Ferriss — The bestselling author of the Four Hour series of books (Workweek, Body, and now, The 4-Hour Chef) is part genius, yet equal part mad man. In his books, Ferriss explains how to hack your life to happiness by accomplishing more with less work. Some of his insane theories have changed the way I live my everyday life, while some of the others are much less practical (but still a fun to read about).
His latest book, The 4-Hour Chef, is probably my least favorite of his trilogy, focusing on cooking (something I'm not great at and have very little interest in). But the book tries to tackle more than cooking, promising to teach how to become world-class in any skill in record time. This is the area that interested me the most, and these chapters alone make the book worth buying (and for those of you who own a tablet, the Kindle download version is less than $5).
To help promote the release of The 4-Hour Chef, Tim offered to let us publish an excerpt from the book featuring his favorite cooking-related movies and television shows. Read that short excerpt after the jump.
TOTAL CULINARY IMMERSION RESOURCES
To maximize learning-by-osmosis while writing The 4 Hour Chef, I went all in with 24/7 immersion. What follows are some of the tools that kept me excited about cooking and that steepened the learning curve (not always both).
SHORT TV
I use Roku and Amazon Prime to stream when I can:
Escape to River Cottage and Return to River Cottage- This is by far my favorite food series, and Escape to River Cottage is the strongest. Absolutely wonderful.
Heston Blumenthal's "Search of Perfection" on YouTube.
Top Chef Season 6, episode 13: "Goodbye to Vegas"- Features Thomas Keller; Jerome Bocuse, son of Paul Bocuse; and a simulated Bocuse d'Or, the "Olympics of Food."
After Hours with Daniel (Daniel Boulud)- If you've ever wondered what chefs talk about over drinks late at night, this is the series for you.
A Day in the Life (Morgan Spurlock series, free on hulu.com)- What does a typical Clay look like in the lives of Mario Batalì or Stephanie Izard? The former is now a celebrity chef, and the latter is the first female winner of Top Chef; who is still focused on creating the perfect restaurant. These 30-minute profiles are perfect pre-bed snacks. (For those interested, I also have a profile, which was filmed while writing this book.)
MOVIES
I suggest alternating between fiction and documentaries.
Documentaries
Jiro Dreams of Sushí (Japan)-The most beautifully shot food film I've ever seen. During my last trip to Tokyo, I ate at the younger brother's restaurant, where he was the consummate host.
A Matter of Taste: Serving Up Paul Liebrandt (USA)-The perfect introduction to the trials and tribulations of being a chef, even (or, perhaps, especially) a brilliant one.
Pressure Cooker (USA)-This is the only real tearjerker, a life-affirming story of a culinary teacher in Philadelphia who trains students to win full scholarships.
Garlic Is as Good as Ten Mothers (USA)- Les Blank's incredible (and funny) movie about one ingredient: garlic. Features wonderful vintage footage of Alice Waters and early-era Chez Panisse.
Kings of Pastry (France, Netherlands, United Kingdom)- Who knew pastry could be a full-contact sport? Just as in Pressure Cooker, you'll notice that all the coaches are awesomely brutal.
Le Cirque: A Table in Heaven (USA)- Before you open that restaurant you've always dreamed of, watch this and The Restaurateur. These are the troubles that even the best in the world have, so consider yourself forewarned.
The Restaurateur (USA)- Follow Danny Meyer through the opening of Eleven Madison Park. Be sure to watch the epilogue in the Special Features Section.
Eat This New York (USA)- A cautionary tale of opening a restaurant when you're not ready for it. My favorite part is the chef interviews in the DVD extras.
El pollo, el pez, y el cangrejo real (The Chicken, the Fish, and the King Crab) (Spain)- This covers the training of one Spanish competitor invited to the 2006 Bocuse d'Or.
Non-documentaries
Ratatouille (USA)- Pixar rules. 'Nuff said.
Julie & Julia (USA)- Though a controversial film among foodies, it is a must-see for any new cooking
student, in my opinion.
Eat Drink Man Woman (Taiwan, USA)- This wonderful movie is worth watching just for the intro
sequence. I love Taiwan and Taiwanese food.
Tampopo (Japan)- A Japanese Amelie that predates Amelie. Watch this on a Friday night prior to
cheat day, since you'll immediately want to eat ramen.
Babette's Feast (Denmark)- Very somber, but the ending makes it awesome. You won't forget the
punch line.
Like Water for Chocolate (Mexico)- Sexy, sexy, sexy. Great date movie.
Perfume: The Story of a Murderer (France, Germany, Spain)- This is not technically about food, but
about smell.
Big Night (USA)- One of the most quotable food movies of all time. Chefs like this one, probably
because Tony Shalhoub (Monk) loves food and hates his dumb-ass customers.
The God of Cookery (Hong Kong)- The most ridiculous of the bunch. Have some "brownies" (wink,
wink) and enjoy this Stephen Chow (Shaolin Soccer, Kung Fu Hustle) delight. The broken English
subtitles make it twice as funny.