'Up' Balloon House Recreated In Real Life, With Human Passenger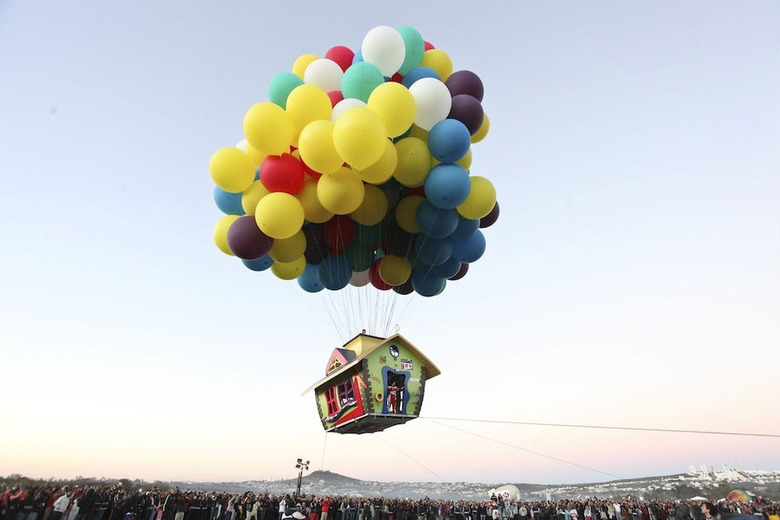 Jonathan Trappe has a simple goal: fly across the Atlantic. Something that happens dozens of times per day by multiple airlines might not seem like a big deal, but Trappe wants to do it alone and in a boat lifted only by balloons. He's a professional Cluster Balloonist, similar to Carl Fredricksen in Pixar's Up. Recently, just for fun, Trappe duplicated Carl's feat by taking a small house up in the air tethered only by balloons. That might sound impressive, but his previous trips across the English Channel and the Alps are slightly better.
After the jump, read more about his feats, see videos and photos of his Up inspired trip.
Trappe's official website has all the information on his Atlantic Ocean trip, how you can contribute, and links to multiple news outlets who've covered him in the past. This past weekend, he took his skills to the International Balloon Festival in Leon, Mexico to promote that eventual trip. Here are some photos courtesy of Buzzfeed.
Trappe left from his home in North Carolina and landed in Mexico. Pretty impressive. It took about 365 balloons. And while it's been done before, not over these lengths and with people.
The Daily Mail posted this video from another one of Trappe's journey's. It's not in a house, but you catch the drift.
Pretty cool. You have to think he's going to be able to cross the Atlantic pretty easily, no?