Marvel's Delayed Phase One Boxset Out April 2, Will Now Include Phase Two Tease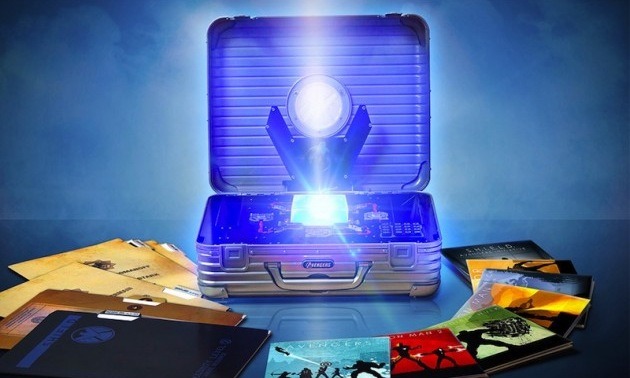 After getting sued over the packaging of Marvel Cinematic Universe: Phase One – Avengers Assembled Blu-ray box set, Marvel has regrouped and reloaded. The official set goes back up for presale Tuesday and will now be on sale April 2, 2013.
With the added time, the company has gone ahead and upgraded the set. In addition to full Blu-rays of Iron Man, The Incredible Hulk, Thor, Iron Man 2, Captain America: The First Avenger and The Avengers, they've added brand new, never before seen deleted scenes from those films as well as an exclusive tease to all of the Phase Two movies – Iron Man 3, Thor: The Dark World, Captain America: The Winter Soldier, Guardians of the Galaxy, The Avengers 2 and maybe even Ant-Man. After the jump, read what Marvel Studios President Kevin Feige had to say about the set.
Entertainment Weekly got the scoop on the new box set, which will still have the Tesseract in it as seen above, but cased in an altered package.
Speaking to the magazine, Feige had the following to say about what the Phase Two tease would include:
...footage, concept art, and a few new surprises. Also, look for a nod to Iron Man 3 in the Tony Stark S.H.I.E.L.D. file in the box set.
Materials from Iron Man 3 and Thor 2 shouldn't be a problem as the former has completed, and the latter is well into, production. But the others will be a bit more difficult (Ant-Man test footage anyone?). But what does he mean by "the S.H.I.E.L.D. File?" It's a feature on the disc where a view can explore the intricate connections between all the films. Here's Feige:
We spent an embarrassing amount of time compiling the 'Shield Files' included in the box set to be sure that each character's file was full of great, movie-accurate props and Easter eggs, which help tie all of the Phase one [Marvel Comics Universe] films together.
And where did these never before seen deleted scenes come from? More Feige:
We went back to the editor's assembly of each film and discovered some rare moments that dropped out of the films early on and had not been released on prior discs.
EW posted a non-embeddable example of that, an alternate ending for Thor, featuring Natalie Portman looking to the heavens. Head to their site to check that out.
Will you be picking up this box set? Were you planning on it anyway?