'Parental Guidance' Trailer: Families Can Always Use Another Non-Confrontational Movie For The Holidays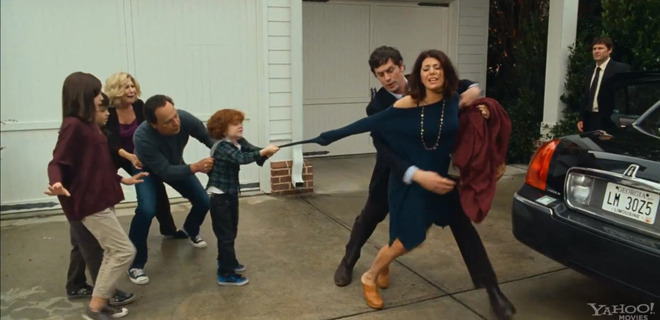 Thanksgiving takes place in the States in a couple days, which means we're at the time of year when some families will be convening for afternoons and evenings spent lazing around lethargically reconnecting in front of a ball game or a movie. There are already plenty of films that serve pretty well as background for family conversation, but Parental Guidance looks like a film that aims to be in DVD players for holidays starting in 2013.
The film features Billy Crystal and Bette Midler as grandparents who are enslisted to care for their family's youngest generation when the kids' parents (Marisa Tomei and Tom Everett Scott) have to spend a work weekend out of town. And so begins a whirlwind weekend of debauchery and deep introspection. Or, sorry, that's a different movie — Parental Guidance seems to gently pit Crystal and Midler's practical but old-fashioned ways against sensitive modern parenting. As gently as possible while also keeping a scene in which Crystal takes a baseball bat to the nuts, that is.
See a new trailer below.
Made for all possible audiences, there doesn't seem to be much to explicitly dislike here, but aside from a glimmer of charisma from Crystal and Midler here and there, I'm not sure it has anything to recommend it, either.
Parental Guidance opens on December 25.
Old school grandfather Artie, who is accustomed to calling the shots, meets his match when he and his eager-to-please wife Diane agree to babysit their three grandkids when their type-A helicopter parents go away for work. But when 21st century problems collide with Artie and Diane?s old school methods of tough rules, lots of love and old-fashioned games, it?s learning to bend – and not holding your ground – that binds a family together.