Four New Names Mentioned For Harry Osborn In 'Amazing Spider-Man 2' Including Sam Claflin And Eddie Redmayne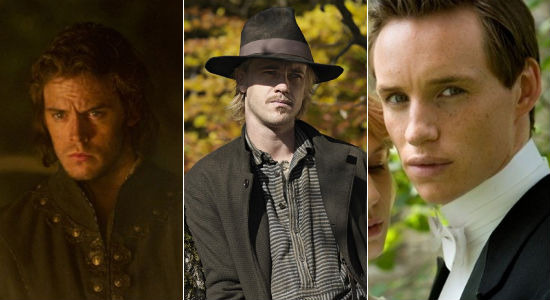 The battle for a plum role in Marc Webb's The Amazing Spider-Man 2 has become a showdown worthy of the webslinger himself. We know that Andrew Garfield and Emma Stone will be returning, joined by newcomers Shailene Woodley and (most likely) Jamie Foxx. Then there's the role of Peter's best friend-turned-enemy Harry Osborn, played by James Franco in the Sam Raimi series. Several actors were said to be up for the role last week and now a new set of young Hollywood males are said to be testing.
The guys are Sam Claflin, the upcoming star of The Hunger Games: Catching Fire, and a supporting player in Snow White and the Huntsman; Eddie Redmayne, star of My Week With Marilyn and the upcoming Les Miserables; Douglas Booth, star of LOL and the upcoming Noah; and Boyd Holbrook, a star of Milk who'll soon be appearing in The Host. Read more after the jump.
The Hollywood Reporter broke the news of these four actors being in the mix, saying they represent a new direction for the character. Last week Brady Corbet (Melancholia), Dane DeHaan (Chronicle) and Alden Ehrenreich (Beautiful Creatures) were up for the role, which was then described as darker and edgier. They've now pulled back on that, hoping for someone with more "athleticism and good looks." Damn, Hollywood can be harsh and rash, huh?
Each actor has his pluses and minuses, the most obvious being that Booth and Holbrook aren't as well known as Claflin or Redmayne, who are both starring in massive movies in the coming months. Claflin, actually, plays such an important role in Catching Fire that you'd assume he might become too recognizable or expensive. Redmayne is super solid but I'm sure a lot rests on the success of Les Mis. Booth is largely unknown, but you've got to trust Aronofsky, who cast him in Noah. And Holbrook could have a shot, especially if The Host is really good or he's really good in it.
What I'm most curious about, though, is how significant Osborn's role will be not only in The Amazing Spider-Man 2, but potentially The Amazing Spider-Man 3. He was obviously key to the Raimi franchise, eventually taking up the mantle of Green Goblin left behind by his father, Norman (another key role yet to be cast, right?) Would Webb's series dare go the same route with so much Spider-Man history to draw from?
Who would you prefer out of this group?