Video: George Lucas & Kathleen Kennedy Talk First Meetings And The New LucasFilm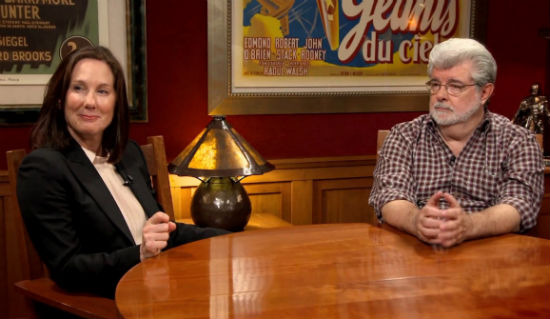 After two news-packed installments in the ongoing discussion between Kathleen Kennedy and George Lucas on the occasion of Disney purchasing LucasFilm and Star Wars, part three is a bit of a letdown. The new and former heads of LucasFilm discuss the first time they met and how Kennedy found out Lucas was interested in passing the company to her. There are no updates on Star Wars or the ongoing development of Star Wars Episode VII, just two of the most powerful people in Hollywood reminiscing. Check it out below.
These video discussions conducted by Lynne Hale, are updated weekly on StarWars.com
Interesting, yes, but I'd love a little more info on Star Wars as I'm sure a lot of fans would. And while I'll continue to look forward to these video blogs, as they were obviously all recorded several weeks ago, I doubt they'll give us any new or pressing information. Or maybe they'll surprise us. Maybe those outfits are being kept in a closet and each week Kennedy and Lucas put them on. Now I'm just rambling.
Feel free to ramble yourselves below.