TV Bits: 'Game Of Thrones', 'Doctor Who', 'Mockingbird Lane', '666 Park Avenue', 'Last Resort', 'Partners', 'The Fighter', Jesse Plemons, Lauren Ash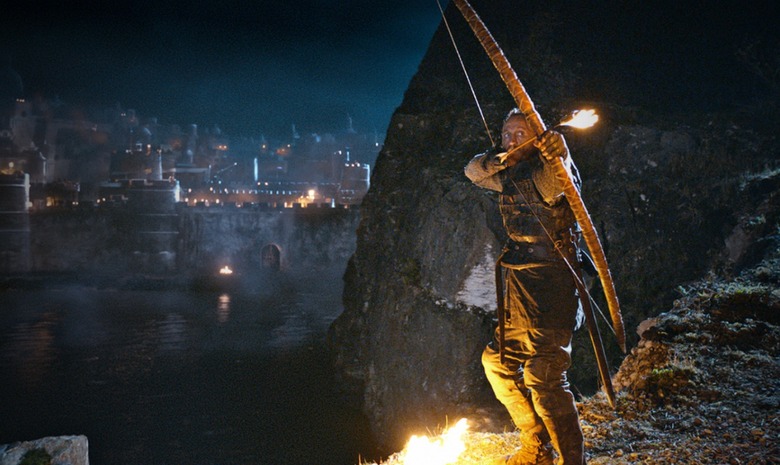 Winter is coming, both in the regular winter-related sense and also in the sense that Game of Thrones' Season 3 premiere is slowly but surely approaching. After the jump:
Jesse Plemons heads to HBO's Cold War series The Missionary
Lauren Ash joins Rebel Wilson and Liza Lapira in Super Fun Night
Mark Wahlberg creates a The Fighter-inspired reality show for A&E
CBS cancels Partners; ABC nixes 666 Park Avenue and Last Resort
See some dark early concept art from Bryan Fuller's Mockingbird Lane
HBO reveals its first not very revealing teaser for Game of Thrones
Enjoy a trailer for the Doctor Who Christmas special "The Snowmen"
Set in 1960s Berlin, the Baltasar Kormakur-directed pilot follows a young American missionary (Walker) who gets involved with the CIA while trying to help a woman escape East Berlin. Plemons has been cast as Sherwood Elbridge, a Coca-Cola exec who helps defectors escape the Eastern Bloc. [Deadline]
Lauren Ash (Syfy's Scare Tactics) has joined the ABC comedy pilot Super Fun Night, rounding out a lead cast that also includes Rebel Wilson and Liza Lapira (Don't Trust the B– in Apartment 23). The single-camera series, created by Wilson and exec produced by Conan O'Brien, follows three awkward friends through their "funcomfortable" attempts to have "super fun" every Friday night. [Deadline]
It remains to be seen when Micky Ward and Dicky Eklund will return to the big screen, but their scene-stealing sisters are preparing to make their small-screen debuts. Well, kind of. A&E has ordered a pilot for an untitled reality series inspired by the loud-mouthed, big-haired, tough-as-nails ladies of The Fighter, with Mark Wahlberg on board to executive produce.
The show will follow four blue collar Bostonian women — like the ones in The Fighter — as they juggle family, work, and love in their day-to-day lives. Filming is expected to begin in a few weeks. [Deadline]
At some point over the past few months, the question surrounding CBS' Partners went from "Will CBS cancel Partners?" to "Seriously, how has Partners not been cancelled already?" So I'm betting no one's shocked, or especially disappointed, to learn that CBS has finally pulled the plug on the sitcom. Partners will be replaced in its Monday 8:30 PM timeslot by reruns of other, better-rated CBS shows until the network figures out what midseason replacement it wants to sub in in January. [Vulture]
More disappointing and (slightly) more surprising is ABC's decision not to give back-nine orders to freshman dramas Last Resort and 666 Park Avenue. The plan is for both shows to finish airing the 13 episodes that have already been ordered, after which point 666 Park Avenue will go away forever.
However, ABC is keeping its options open for Last Resort, which means the series still has a shot at getting picked up for Season 2. Not a great shot, mind you, but it's a sliver of hope for fans to cling on to. [Variety]
Speaking of things that are dead: Bryan Fuller's grand plans to revive The Munsters as Mockingbird Lane ultimately fell flat, but since NBC aired the pilot episode as a Halloween special we know what Fuller had in mind. And if you think what we saw wasn't quite as dark as it could've been, well, you'd be right.
Designer Jack Gallagher has posted several early bits of concept art from the series, which have a rather creepier tone than the version that eventually made it to air. Flip through a few of the pieces below, then head to Screen Crush for more.
In happier news, Game of Thrones is coming back, and HBO is ready to get you excited about it. The premium cable channel has released the very first teaser for Season 3, which in keeping with tradition features an ominous voiceover, the release date, and absolutely zero footage.
"The great war is between death and life, ice and fire. If we lose, the night will never end" isn't quite as catchy as Season 2's "The night is dark and full of terrors," but it'll do. Of course, if you really want to know what happens next, you could just pick up George R.R. Martin's A Storm of Swords, on which the new season will be based. Game of Thrones' returns March 31, 2013. [Vulture]
Fortunately, we'll have plenty to keep us occupied until then. Like the Doctor Who Christmas special "The Snowmen," which airs on Christmas Day. The episode will mark the first appearance of Clara, the Doctor's new companion played by Jenna-Louise Coleman. Watch the trailer below:
Tune into BBC America on Tuesday, December 25 at 9/8C to see the rest. [Coming Soon]